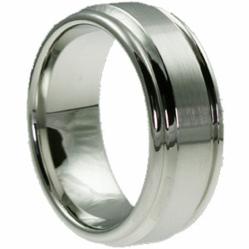 (PRWEB) February 09, 2013
http://www.ForeverMetals.com, a manufacturer and retailer of high quality Tungsten Rings and wedding bands, has added a line of Cobalt Chrome Rings to their growing line of Wedding bands. Adding the new line of rings is a refreshing start to the company adding more alternative metals to the website. Gary Camphausen, owner of Forever Metals, LLC, commented that the company needed to manufacture rings in metals other than tungsten to stay on top of jewelry trends. The collection, although small, will quickly be expanding to many styles that men and women can wear.
Cobalt Chrome is a metal that is slightly lighter in color than tungsten carbide. The metal is extremely durable, being less scratch resistant to tungsten but more durable than other metals such as titanium, gold and platinum. Cobalt Chrome is also easier to manipulate, making the style choices virtually endless. Forever Metals initially got the idea to manufacture Cobalt Chrome when customers began asking about the alternative metal.
Forever Metals encourages buyers to choose quality Tungsten rings and Cobalt Chrome jewelry as there statement piece. They offer the largest, most unique collection of Ring at the lowest price possible. Please shop with confidence when choosing your ring and jewelry for your special day.
For more information and to view the large collection of Wedding Bands please visit http://www.forevermetals.com.
About Forever Metals:
Forever Metals™ has been a leader in Tungsten Jewelry since 2005. Forever Metals is a member of the Better Business Bureau (BBB) and offers a secure shopping environment for their buyers. Forever Metals offers a Limited Lifetime Warranty with all purchases. Shop with Confidence.