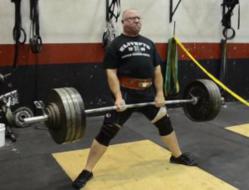 Albany CrossFit is a great place to lift.
Albany, NY (PRWEB) February 08, 2013
Albany CrossFit and CrossFit Clifton Park, part of a worldwide movement that is changing the way people think about diet, health and fitness, today announced it is adding a Westside barbell class to its schedule beginning February 11, 2013.
"Many of our members want to up their weightlifting game, so this expert instruction on the Westside methodology is the answer," said Jason Ackerman, owner of Albany CrossFit and CrossFit Clifton Park.
Ackerman said "the payoff will be there for athletes who put in the work: increased strength and guaranteed personal records."
Albany CrossFit and CrossFit Clifton park are putting a renewed empahsis on weightlifting. "A recent member survey found members wanted more weightlifting," said James McDermott, one of the coaches for the Westside course.
The course runs Mondays and Wednesdays at 4:00 PM for eight weeks, beginning February 11, 2013. The cost for all 16 sessions is $150 for members and $275 for non-members.
The course includes instruction on the bench press, sumo deadlift and sumo squat. It will conclude with a powerlifting meet.
Albany CrossFit member Andy St. John is looking forward to the course. The 52-year software engineer is closing in on a 500 pound deadllift and a 500 pound back squat, all thanks to the expert instruction and camaraderie at Albany CrossFit.
"When people ask me for a good place to lift, I always say Albany CrossFit. Some people are surprised. They don't really get what we do here," says St. John.
Albany CrossFit and CrossFit Clifton Park have everything lifters would expect: leader boards, lifting platforms, tons of barebells and plates, dumb bells, reverse hyper and GHD machines, chains, and strongman gear, including yokes and stones.
More importantly: the gyms have expert coaches like James McDermott who says: "There is almost always a coach around to offer a spot and tips to those working out on their own."
When members join Albany CrossFit and CrossFit Clifton Park, they get an unlimited, all-access pass. On top of CrossFit classes, they are free to work out on their own almost anytime the doors are open.
Andy St. John likes "the wild diversity" of athletes he meets at Albany CrossFit who are "all really dedicated and committed." He says "the strong sense of community" has helped him go far beyond what he thought possible. He says he was "like a kid in candy store" when he saw all that the gym offered. So he tried out kettlebell and strongman classes, on top of his weightlifting.
Coach James McDermott has been an instructor at other gyms and says it's the strong community atmosphere at Albany CrossFit and CrossFit Clifton Park that makes all the difference. "I just love helping people get stronger," says McDermott.
The Albany CrossFit gym began modestly five years ago in cramped and shared space with a handful of members. It expanded to a second location in Clifton Park, then expanded its original location. Together, both gyms have over 500 members.
Why the success for a demanding diet and workout regimen?
"It's the community feeling and the caring," says Albany CrossFit and CrossFit Clifton Park owner Jason Ackerman. "We treat everyone who walks through the door like an athlete, regardless of their current fitness level, and our members are great about encouraging each other."
CrossFit workouts focus on natural and functional movements and are different every day. Every workout is coached and the coaches scale the workouts to accommodate different ability levels.
CrossFit uses barbells, kettlebells, pull up bars and many body weight movements including squats and pushups.
And it's a bit like the TV series "Cheers": everyone knows your name. Members strike up friendships, go out together and travel together. A few have even gotten married.