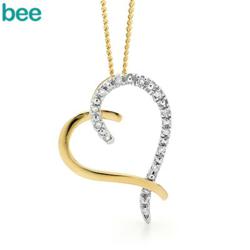 Alexandria, NSW (PRWEB) February 09, 2013
Finding the right Valentine's Day gift can be a challenging prospect. However, searching for the perfect gift with Bee Jewellery is a rewarding experience.
Bee Jewellery is giving customers the chance to give their hearts away this Valentine's Day with their beautiful collection of heart-themed jewellery. Bee Jewellery believes that the pursuit of a unique Valentine's gift can be an extremely personal experience, even online.
With just a few clicks on their website, customers can pick from an exclusive range of fine jewellery, rings, pendants, earrings and more that will make an ideal gift this Valentine's Day.
A classic and a favourite for ladies this Valentine's Day has always been heart-shaped jewellery. Bee Jewellery recommends a pair of romantic gold and diamond heart drop earrings on a short and dangling chain -- a gift for fun, everyday jewellery.
For a more classic look, try a romantic, white gold, diamond heart pendant. It can be worn at an angle or straight. This 9ct. pendant comes with a free plated chain to round off the gift perfectly.
What about chocolates? Valentine's Day just cannot be without chocolates. Bee Jewellery has put together an irresistible box of romantic chocolates with a solid 9ct. gold heart pendant set with cubic zirconia.
Whether the preferred style is clean and classic, modern or rock-inspired, there is always something to be desired at Bee Jewellery.
For more information on the range of products they offer, please visit http://www.beejewel.com.au.