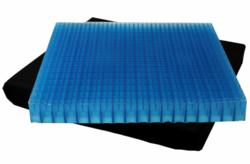 I gave it to my wife for her birthday and she loves it. Thank you.
Alpine, UT (PRWEB) February 09, 2013
"What's better than a box of chocolates and lasts much longer than a bouquet of roses?" WonderGel asks. For nearly three years now, WonderGel has been spreading comfort with their seat cushions and other comfort products. Their very durable and long-lasting products are very popular as gifts, and well received by those who are looking for a more comfortable seat.
In the spirit of gift-giving, WonderGel has launched their 2013 Valentine's Day promotion giving free shipping to all those within the United States using promo code "bemine" during checkout from their website. Now those who are looking to show their loved one they care can save money while getting their Valentine a truly meaningful gift that will last. "You can still get them chocolates and flowers," says Emily Heise in WonderGel marketing, "but a Valentine's gift that is sure to please and will last longer than a week will be a constant reminder of your love."
The gel in WonderGel cushions does not break down like regular foam, and so lasts through the years, providing that unending sitting comfort that can be so hard to find. Ariel L. from Los Angeles, CA remarks on the gift she bought her father, "…I found the WonderGel DoubleGel and dad is in bliss. Though he doesn't spend all his waking time sitting, he does comment on its comfort over and over again. He tells me it is perfect for ridding his sores from sitting, request that it be taken to the dinner table and even recently it accompanied us out to dinner. The product is constructed with excellent materials, it never stays compressed and most importantly it's as comfortable now as it was the day I gave him the pad. Thank you at WonderGel for making my father's life just that much more comfortable."
The free shipping Valentine's Day promotion is valid February 7-14, 2013 and available to residents of the US. The promotion is good for new orders only and can be used online at their website or by calling WonderGel customer service at 801-756-2600. Coupon code "bemine" must be used prior to checkout.
Learn more about WonderGel and visit their website to take advantage of this promotion at http://wondergel.com/