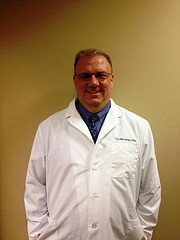 Each of our staff members is in this profession because we know it's our privilege to help people.
Algonquin IL (PRWEB) February 08, 2013
Algonquin, IL dentist, Dr. Tim Stirneman of All Smiles Dental, recently achieved a 93 percent patient satisfaction rating for excellent dental care. Of more than 130 reviews left on Dr. Tim Stirneman's DemandForce.com profile, 93 percent of patients reported top satisfaction rankings of their dental experience, making Dr. Stirneman one of the most highly ranked dentists in the local area.
"When a client leaves our dental office grinning from ear to ear, and their excitement is contagious, that's when I'm most satisfied," said Dr. Tim Stirneman. "Each of our staff members is in this profession because we know it's our privilege to help people. Receiving these top reviews helps us know that we're really making a positive impact on our patients."
Patient reviews of Dr. Tim Stirneman report that the willingness of the staff to treat emergency dental issues, along with their extra effort to ease dental anxiety have made their experience at All Smiles Dental unlike any prior dental experience.
"My decision to use All Smiles Dental helped me overcome my phobia of the dentist that I had for over 20 years," said Michael G., a patient of Dr. Tim Sitrneman. "Throughout the entire process the All Smiles team was continually aware of my comfort needs and did anything required to accommodate me while answering all of my questions and addressing my concerns.
Ethan Swick, another patient of All Smiles Dental in Algonquin, IL, said "Our first visit was unexpected, but we appreciated that they were able to fit us in so quickly without an appointment for emergency care. The staff is great with my kids and they all think Dr. Tim is cool."
At All Smiles Dental in Algonquin, IL, Dr. Tim Stirneman works alongside Dr. Chad Ollom who is certified in Invisalign orthodontics, cosmetic dentistry, Botox and dermal fillers. Together they provide a wide range of dental and orthodontic services including emergency dentistry, sedation dentistry, TMJ dentistry, sleep disorder dentistry, treatment for gum disease and more.
Dr. Tim Stirneman earned his dental degree from Creighton University School of Dentistry and has been a practicing dentist for more than 25 years. He has completed several continuing education courses in emergency medicine dentistry, local anesthesia, oral pathology and more. He is a member of the ADA, Illinois State Dental Society and Algonquin Dental Study Club.
For more information about Dr. Tim Stirneman or to read patient reviews of All Smiles Dental in Algnquin, IL, please visit http://www.AllSmilesDental.com and https://www.youtube.com/watch?v=emt0bblSZzM