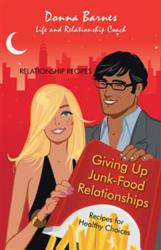 You are what you eat, right?
New York (PRWEB) February 11, 2013
"Bad relationships are pretty much the same as junk food," states author Donna Barnes. Here to empower readers with the knowledge for recognizing the unhealthy relationships in their lives is her practical new advice book "Giving Up Junk-Food Relationships: Recipes for Healthy Choices" (published by iUniverse).
From the book's introduction:
"You are what you eat, right? You likely know from experience that when you select healthy, well-balanced meals, you look and feel great, just as when you opt to fill up on junk food, though you may enjoy it in the moment, you probably don't feel so great afterward. Your health depends on what you choose to consume and how active you are. The same rules that work with food also apply to relationships. What you put in is what you get out. Your happiness in a relationship depends on the choices you make. The purpose of this book is to help you make better relationship choices."
Barnes encourages readers to find a relationship that is akin to a well-balanced meal. She points out the different kinds of "junk food" scenarios (midnight snacks, food poisoning) and identifies their corresponding relationships (booty calls, abusive partners) to uncover why good love goes bad, before delving into how to cultivate healthy, nutritious alternatives. Her creative food metaphors mixed with checklists, how-to lists, and multiple choice quizzes provide straight-forward methods for improving all relationships.
"Giving Up Junk-Food Relationships"
By Donna Barnes
Hardcover | 5.5 x 8.5 in | 220 pages | ISBN 9781475972771
Softcover | 5.5 x 8.5 in | 220 pages | ISBN 9781475972788
E-Book | 200 pages | ISBN 9781475972764
Available at Amazon and Barnes & Noble
About the Author
Donna Barnes is a life and relationship coach certified by New York University. She was an on-air expert for three seasons of ABC News' "What Would You Do?" and has appeared on numerous other television programs including "Good Morning America" and "CBS this Morning." Barnes has written advice columns for magazines and websites and has interviewed some of the country's top sex and relationship experts. This is the first book in her Relationship Recipes series. For more information, please visit http://www.DonnaBarnes.com.