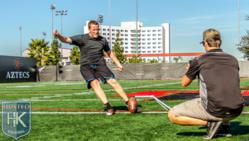 "It feels really good to be back in San Diego. For me, to have the best chance to become as good as possible, I have no doubt this is where I need to be. Havard Rugland
San Diego, CA (PRWEB) February 08, 2013
In pursuit of his NFL dream, Norwegian Internet kicking sensation Håvard Rugland, whose YouTube video has been viewed over 2.5 million times in the last four months, has returned to the U.S. to continue his training with kicking coach Michael Husted of Husted Kicking.
"It feels really good to be back in San Diego," says Rugland. "Here, the training conditions are perfect and I get the chance to continue to work with my coach, Michael Husted. For me, to have the best chance to become as good as possible, I have no doubt this is where I need to be."
Husted, who kicked in the NFL for nine years, and who is now a kicking coach in San Diego, CA, says he is happy to have Håvard back in San Diego for additional training.
"It is great to have Håvard back in San Diego to train," says Husted. "We already have a handful of NFL teams that are eager to work him out. He intends on staying here in the states for a couple of months to train and ideally sign a contract with a NFL team."
Rugland says it was great to be home in Norway for the Holidays, but he was anxious to get back to the U.S. to continue his training with Husted. He says it is only because of his new sponsor Videxio, that he was able to return to the U.S. to start training again so quickly.
"After I got home from my first stay in San Diego I celebrated Christmas and New Year with the people I care about back home. It was very much media attention during this period and it took up a lot of time," says Håvard. "After working out a bit at home in the snow and cold weather, I found out early that I had to return to San Diego to get perfect training conditions. But without help from a sponsor such a trip would be impossible."
"Luckily for me I met Videxio who wanted to sponsor me and give me the opportunity of a longer stay in San Diego," says Håvard. "So then it was time to pack my bag and head to San Diego and Michael Husted."
Videxio is a video communications service provider for video calls who focuses on the business market, with the specific goal to help businesses communicate better and be more productive.
You can find out more about Videxio here.
Håvard says now that he is back in San Diego training, he is very clear on his goal.
"My goal is to play in the NFL," says Håvard. "Therefore, I need to train hard and do well when I get the chance to show what I can do. I feel very lucky getting the opportunity to come to America and work with Michael Husted. To work with him has been a great experience. We have worked a lot with my technique, getting it more related to American football."
And if all goes well, American football will soon become 'more related' with Håvard Rugland.
Go here to watch Havard Rugland's kicking video on YouTube.
Go here to learn more about kicking coach Michael Husted.