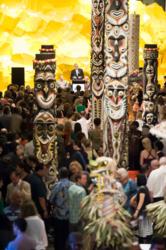 Brisbane, Queensland (PRWEB) February 08, 2013
Santos Chief Executive Officer David Knox said APT7 was a great way of showcasing the arts to Queensland.
"Santos is not only bringing this unique cultural event to GoMA and the Queensland Art Gallery, we're also helping take it on the road to give regional communities the chance to experience this world-class event," Mr Knox said.
"Santos has a very strong connection with the Asia Pacific region and we're delighted we can further strengthen this relationship by bringing this exhibition to Queensland.
"Asia Pacific Triennial was first staged in 1993 and Santos is proud to continue its support to make the arts more accessible to all Queenslanders."
Queensland Art Gallery and Gallery of Modern Art (QAGOMA) Acting Director Suhanya Raffel said the gallery greatly valued the support of Santos in enabling it to deliver an innovative and engaging program of exhibitions and events.
"We have been partnering with Santos since 1995 and their support represents the gallery's single largest corporate investment to date," Ms Raffel said.
"In 2009, Santos signed a five-year sponsorship agreement with us in which they committed to supporting our major summer exhibitions and our Children's Art Centre.
"It is this support that helps us bring together exhibitions such as the Asia Pacific Triennial of Contemporary Art (APT) that enhance cultural dialogue in our region and also provide a platform for diverse artistic practices."
More than 1.8 million people have visited the exhibitions since its inception, with more than 520,000 of those coming from interstate or overseas.
For more information on the APT7 opening weekend celebrations, visit http://www.qagoma.qld.gov.au/apt7