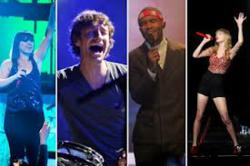 San Diego, CA (PRWEB) February 08, 2013
Dream Buzz, the blog for social dating site iDreamofU (IDOU), offers dating insights to help singles find the person of their dreams. With THE 55th Annual GRAMMY Awards taking place this Sunday, February 10th, Dream Buzz evaluates the romantic take-aways the six Grammy-nominated "Record of the Year" songs have to offer. Each of the nominated records has lyrics that offer insight into love and romance shared by the songs' writers.
As an example, Fun.'s "We are Young" seems, on the surface, to be about youthful energy and the ability to do anything at any time. There is a classic dating scenario that can be found in this song where a couple argues, breakup, one party wants to get back together but the other decides it is best to move on.
The IDOU dating advice is that the couple not get back together, even if there is interest from one party. There is an underlying reason for the breakup. Sometimes, when newly out of a relationship, feeling lonely and not adjusting quite as quickly as had been hoped, the best aspects of the relationship are romanticized rather than being evaluated objectively.
There are five other Grammy-nominated songs evaluated for romantic insights, each offering a dating story or a lesson in love. To learn about the love lesson learned from each Grammy-nominated record of the year, read Love Lessons Learned from the Grammy Nominees.
About IDOU
Online social dating site iDreamofU (IDOU) members can visually create a near-lifelike image of the person they would like to meet (Dream image). The IDOU software then matches the Dream image, along with responses to the traditional demographic and relationship questions, to members on the site.
IDOU is a newer entrant into the free online dating market; a market that is estimated to be in excess of $1 billion. The core differentiating factor between IDOU and all other dating sites is that an IDOU site member builds a visual version of the person he or she would like to meet by selecting an ethnicity, a preferred facial structure along with eye, nose, mouth and hair shapes. Since visual attributes are only part of a member's created profile, responses to the more standard demographic and relationship questions also play a significant role in the matching algorithm.
There is also a non-dating component to the site. Anyone visiting the site can create a person's image just to experience the site.
Launched in April, 2012, IDOU provides an innovative, game-like, and first-in class approach to online social dating for 18-50 year olds in the United States. All services on IDOU are currently free. IDOU will focus on the use of its website and mobile application, as well as other planned applications, to create an online and social dating market niche.