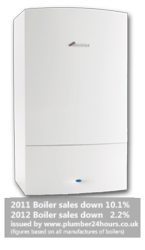 Boiler replacements on a decrease
(PRWEB UK) 12 February 2013
According to the Emergency Plumber Company based in Warrington, boilers bought in 2012 compared to 2011 have been down by 2.2%.
Since 2010 the sales of Boilers has been down by about 12%, which asks the big question, "Is this due to a recession, or are boilers getting built better and lasting longer?"
2010 was the coldest year on record. This resulted in more use of the Boilers and an increase in repairs due to the amount of use the Boilers were subjected to.
There was that much gas used in the UK of December 2010 that the Boilers were not firing up. Boilers can normally not fire up when there is no gas in the gas pipes. A shortage of gas can be caused by high demand.
In January 2011, Boiler replacements were in high demand and was also known as the recovery year for Boilers. Thankfully for the economy, 2011 was on average a warmer year in the UK than the previous 3 years.
The cold spell of weather in February 2012 bought an increase in Boiler related problems, but it also had it's fair share of warm weather.
January 2013 was to begin colder than the previous January of 2012. On the whole, the weather was not as cold as the February of 2012.
If the warm weather is to continue through 2013, then there will be a decline in Boiler replacements.
The green deal cash back scheme will try to stimulate the market and increase Boiler replacements, but as a whole it is also here to transform the energy that is used, and to save the cost in fuel.
The evidence in the sales of Boilers, strengthens the case for additional government action to help replace the old grade F and G rated boilers. There are still over 5 million of these boilers in the UK.
A new condensing Boiler will not only reduce energy bills, but will also emit less carbon emissions in to the air.
When you have a Boiler related problem and need advice on replacing your boiler then it is always advised that you use a reputable company. When requiring an Emergency Plumber London, Martin Smith from Plumber24hours has over 25 engineers who can get to any property within the M25 area within 30 - 90 minutes.