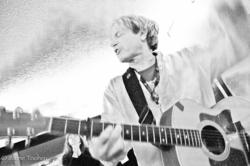 (PRWEB) February 08, 2013
The International Folk Alliance Conference is about to descend on the city of Toronto. The largest self contained music event in the world, Folk Alliance features over 200 official showcase artists, panels, workshops, receptions, keynote speaker, Lifetime Achievement Awards, a special preview of our 2014 conference and new music camp in Kansas City, and so much more. Get registered today. Visit the 2013 Conference Schedule "At A Glance" to get familiar with the event, and the Official Showcase Artists & Schedule page to check out the artists. http://www.folk.org
FOLK ALLIANCE AT HUGH'S ROOM
In addition to Wednesday night's public shows at the Delta Chelsea, this year Folk Alliance is bringing the music to the local community, with a series of shows from our showcasing artists at Hugh's Room throughout the conference week. These shows are fundraisers for Folk Alliance International, and tickets are available by calling (416) 531-6604 or emailing info(at)hughsroom(dot)com, individually ($25) or in packages (2 for $45, 3 for $65 & 4 for $80), or at the door for $27.50.
Wed. February 20
Pear
Del Barber
Hot Club of Cowtown
Thurs. February 21
Brooke Palsson
Old Man Luedecke
The Stray Birds
Fri. February 22
ITR: Jimmy Lafave, Sam Baker, Matt the Electrician, Ellis Paul
Red Molly
Elephant Revival
Sat. February 23
Joe Pug
Milk Carton Kids
Rose Cousins
WEDNESDAY NIGHT CANADIAN SPECTACULAR (Wednesday, February 20: 7:30-11:00pm)
On Wednesday night Folk Alliance welcomes the general public and our registrants to a series of Special Feature Shows presented with Borealis Records, True North Records, CIMA, Grassy Hill Entertainment, Winterfolk, Toronto Blues Society, and others. There will be a total of nine stages featuring 60 artists and a very special Louisiana style dance party. Entry is included with your registration and the public may attend with a suggested donation. Check out the Artist List on the FAI website.
EXCLAIM! MAGAZINE CONTEST WINNERS
Folk Alliance International and Exclaim! Magazine congratulate Grand Prize Winner Eve Goldberg, who was the first to correctly identify all the faces in the Folk Alliance 2013 Conference Poster, designed by A Man Called Wrycraft. She will be presented with a cheque for US$1000 from Folk Alliance, and a new guitar from Exclaim! at the conference. Second prize went to Tannis Slimmon and runner-up prizes including FAI swag bags and passes to Hugh's Room went to Danny McKenzie, Jennifer Bruce, Brendon Wilson, j.g. busch, Julia Schopick, Phill Lennie, Michelle Robertson, Daniel Lawrence Walker, Binaeshee-Quae Couchie-Nabigon, Bonnie Couchie, Michael Fiorie and David Rowe. Thank you to all who entered!
KEYNOTE (Thursday, February 21: 11:00am, Registrants Only)
Folk Alliance International is pleased to welcome legendary Canadian music industry icon Bernie Finkelstein, founder of True North Records, as our featured keynote speaker. Mr. Finkelstein will be interviewed by CBC Radio Personality Tom Power. "I'm attached to the idea of original - not only original, but new," says Finkelstein, "I listen for songs, I'm a song person, and the performers don't have to be Miles Davis, but if I'm going to work with somebody, they better be able to play."
COFFEE SHOP PROJECT
Folk Alliance has teamed up with Audioblood Media to bring Torontonians a taste of whats happening at the conference. The February Pick of The Month for Audioblood's Coffee Shop Project will feature Folk Alliance's annual compilation album on free download cards available at participating coffee shops across Toronto. Pick up your card through the month of February and go to http://csp.audioblood.com/ to redeem.
FAI REGIONAL EXPANSION
For the past several years, the FAI Board of Directors and our Regional Leaders have been studying how best to deal with providing services to our FAI members north and south of the border. They have determined the biggest way to add value to our Canadian members is access to International markets. In order to increase our long-term value to our Canadian members and improve our future opportunities in Mexico, Latin America and the Caribbean, we are expanded our existing regions to incorporate our international neighbors.
We believe this goes a long way to solidify our International intent and jumpstart new opportunities in North America and around the world without directly competing with similar organizations. All Canadian FAI members will now be considered members of the region most closely associated with your home. What this means is that you will now have the opportunity to vote and run for office in your regional Board of Directors elections, participate in FAI regional events including one-day Canadian events, and take a more active role within your region. There are also ongoing discussions regarding building our FAI footprint in Europe, UK, and Australia. All of our Folk Alliance regions have always welcomed guests from everywhere, but we just wanted to make it official. Thanks to everyone who participated in this lengthy process. We all look forward to the future. For more information on FAI's regions and regional events, visit the Regions page on FAI's website.