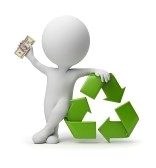 Today, the company (MinuteHound) announced the increasing role of their software in corporate green initiatives.
New York, NY (PRWEB) February 28, 2013
MinuteHound is the creative company which engineers technologically advanced, cloud-based timekeeping software. Today, the company announced the increasing role of their software in corporate green initiatives. Using fingerprint scan technology, MinuteHound software sweeps paperwork from factory floors and offices and removes time-cards and paper reports from the accounting department.
Goodbye to Paper Time Records
The company declares that "MinuteHound is a green product. It's paperless so you'll be saving the planet." MinuteHound goes beyond paperless, providing timeclock accuracy and traceability as well as accounting and management reports, none of which ever need to involve paper or printers.
More Reliable Time Records
For those who believe in having records on paper, MinuteHound's technology shows that there is a better way. Clock accuracy, identification of workers as they clock in and out, and records stored offsite automatically mean the headaches of paper vanish. In its place, a clean environment and more efficient business operations arrive.
Energy Efficiency
Time Clock Software that runs in the cloud takes advantage of the latest computer and facility technologies to save energy and operate "green" in ways that on site systems can't. Timekeeping related systems can be shut down and moved to a window on an existing PC.
A Streamlined Process
Standard time clock procedures can involve standing in line, locating and punching a paper card, swiping a badge, or entering pins and passwords. When payroll data is manually calculated and entered, errors and mistakes are almost guaranteed to occur. Payroll clerks print time reports which are reviewed and approved before payroll runs, which can be a lengthy and expensive process.
MinuteHound requires workers to press their fingertips against the scanner, wait a few seconds for an "OK" light, and move on. It keeps the process simple. Accounting signs on to the MinuteHound website, views reports as needed, and downloads information prepared for payroll. Simple, easy, and mistake free.
Secure Technology
Paper is not a secure technology. It can be lost, damaged, forged, or modified. It can't control what is written on it, who reads it, or whether the information on it is even accurate. Fingerprint scan technology and Internet time sources are used in MinuteHound, enabling companies to be sure that their records are accurate and verifiable, securely stored and controlled.
Stored off site in the cloud, company records are safe and secure, designed to be always available. MinuteHound also uses patented encryption technology which never stores fingerprint data. This unique process keep's employees privacy safe and companies able to meet legal requirements.
Easy Conversion
Change fails because of complexity. Green initiatives can eventually lose steam because they require more sorting, organizing, and working around new restrictive requirements. Using fingerprint scan technology instead of paper time clocks is simplicity itself. MinuteHound's design takes complexity out of the process.
MinuteHound Contact Information
Website: http://www.MinuteHound.com
Email: info(at)MinuteHound(dot)com
Phone: (800) 351-7237