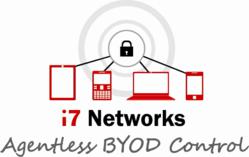 "i7 is not only committed to enterprises to provide the best BYOD security solutions but also cares for the privacy of the employees by providing the best non-intrusive clientless solution"
Redmond, WA (PRWEB) February 12, 2013
Redmond WA/Bangalore India: Microsoft today announced in their PR release that they have selected "i7 Networks" as well as 12 other companies for their second batch of Accelerator Program.
Microsoft received more than 350 applications from early stage technology startups, with exciting ideas across Big Data, augmented reality, healthcare, education, mobile applications, social networking, security, etc., during the two month period starting November 23, 2012.The final 13 were selected after several rigorous rounds of screening by a panel of judges comprising senior leaders from the industry and Microsoft.
Announcing this, Mukund Mohan, CEO-in-residence, Microsoft Accelerator for Windows Azure, said: "Apart from the US and India, we even received applications from countries like Spain, Canada and Australia. This clearly signals the strengthening of a global startup culture". Congratulating the selected ones, Ravi Gururaj, Vice-President, Products, Citrix and Co-Founder of Harvard Business School Alumni Angels (India chapter), said: "Microsoft Accelerator for Windows Azure has emerged as a much sought-after platform for all companies who want to kick start, nurture, reinvigorate and scale up their ventures. I am confident of the success of the new batch—they are sure to match world class standards, and will be much sought after"
Reacting to the selection, Manjunath M Gowda, CEO of i7 Networks, said "We are very happy to be selected and this shows the strength of the co-founding team and our idea of providing agentless security to enterprises due to enabling of BYOD or what is called Bringing Your Own Devices (Smartphone/tablets) into their organizations. i7 is not only committed to enterprises to provide the best BYOD security solutions but also cares for the privacy of the employees by providing the best non-intrusive clientless solution.
For further information please visit our website http://www.i7nw.com or write to us at info(at)i7nw(dot)com