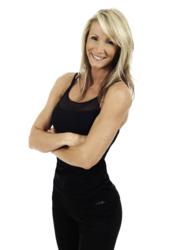 ...resistance bands offer a safe tool that can be used anywhere and at any time
Elizabethtown, KY (PRWEB) February 08, 2013
Tonight will be the last opportunity customers will have to purchase the new Busy Mom Band Workouts program, says renowned postnatal exercise expert and Fit Yummy Mummy founder Holly Rigsby.
Launched this past Tuesday, Busy Mom Band Workouts is currently on sale through the Fit Yummy Mummy website. Through tonight at Midnight EST, the new product is available to customers for 50% off the regular retail price.
To create the new product offering, Rigsby has joined forces with internationally celebrated resistance band training expert Dave "The Band Man" Schmitz. Schmitz is the owner of Resistance Band Training Systems, LLC.
"Ever since I became a personal trainer – and continuing to my time running Fit Yummy Mummy – I have been committed to helping busy moms reach their fat loss goals with quick, fun workouts suited to their ability level," Rigsby proclaims with pride.
"Now that I'm teaming up with the Band Man, I am able to bring a new type of innovative workout solution to women who simply want to slim down, melt their muffin top, and get their pre-baby body back," Rigsby continues.
While many women struggle to drop weight after giving birth, Rigsby and Schmitz have years of experience training people of all ages with elastic resistance bands.
"I think what resistance bands offer are a safe tool that can be used anywhere and at any time," Schmitz says. "I have used them with youth, grandparents, and people of all skill levels."
In short, the pair believes that resistance bands provide challenging yet safe workouts that can be performed with minimal time commitment.
"Simply put, resistance bands are a versatile tool to add to your exercise arsenal," the busy mom fat loss expert states.
Busy Mom Band Workouts contains a series of 5 video workouts led by Holly Rigsby and Dave Schmitz. In the videos, Dave teaches both Holly and the home audience how to work out with resistance bands.
Each video in the set features different components of a postnatal workout program. Video 1 helps women improve posture, video 2 covers the upper body, and Video 3 provides a lower body workout.
The last two videos show Holly and Dave targeting "trouble spots for moms." These include a video on burning the post baby muffin top and another video on how to sculpt the arms and shoulders.
For a limited time only, customers will receive three bonus videos: cardio training with resistance bands, working out in hotel rooms, and performing metabolic resistance band workouts.
Busy Mom Band Workouts also comes with 4 motivating exercise soundtracks.
Busy Mom Band Workouts hit the market earlier this week, but today is the last day to purchase the product for a 50% discount off the regular retail price.
For more information on how to purchase Busy Mom Band Workouts by tonight at Midnight EST, visit: http://busymombandworkouts.com/
For more information on Fit Yummy Mummy, visit http://www.getfitandyummy.com/
About Holly Rigsby: Holly Rigsby is the Co-Owner of Fit Yummy Mummy. She offers her clients a variety of training products to help them burn fat and she writes a fitness blog for FYM.
Fit Yummy Mummy is part of the Fitness Consulting Group family of companies. FYM releases fitness products for moms looking to burn fat and get in shape. It also offers workout tips through its blog.
###