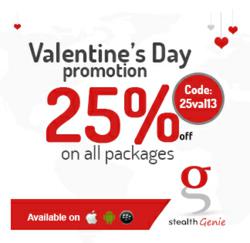 StealthGenie lets me know if my parents who are in their 80s are all safe and doing fine
(PRWEB) February 11, 2013
The makers of the top-ranked smartphone tracking application, StealthGenie, offers its users to stay in the know and ensure that their loved ones are all safe- no matter where they are. As the Valentine's Day approaches, StealthGenie has slashed the prices of all its tracking products by 25%. It seems that tracking loved ones is not going to cost a fortune!
StealthGenie has redefined the phone tracking concept, rolling out new features frequently and adding innovation to the existing ones. Due to its well-planned features, users can keep a close eye on their loved ones and employees for a variety of reasons. Quite recently, StealthGenie announced some really effective features like WhatsApp, iMessage and Gmail app monitoring. It also holds to its credit for being the first tracking app supporting the latest iOS 6, iPhone 5 and Android OS version Jelly Bean.
StealthGenie adds more meaning to the tracking cell phone concept. Asking about the effectiveness of a tracking app for security assurance, Martin Krajnak, the head of app development for the iPhone tracker, replied, "Using a tracking application does not always mean that you suspect some wrongdoing, it's an effective way of finding out where your loved ones are and to ensure their safety."
He said many StealthGenie customers use this app to track their kids and family members not because they suspect some wrongdoing but just to keep a safety check. Martin said, "StealthGenie offers advanced GPS tracking with detailed route maps and location history. A user can know immediately if the target phone user is in danger and needs help."
StealthGenie is in demand with many concerned parents. As Ray Damien, father of two and a StealthGenie customer puts it, "StealthGenie is my parental aide. I keep a check on my kids when they go hang out with friends. With teenagers, you have to be that careful and StealthGenie has been a great help so far." Ana Grey, another StealthGenie customer, has a different approach towards phone monitoring. She says, "StealthGenie lets me know if my parents who are in their 80s are all safe and doing fine. I can't visit them often so I keep a track of their whereabouts in case they need help."
When we approached Amanda Wade, the marketing manager at StealthGenie, about the Valentine's Day special offer, she responded, "StealthGenie has always been giving away exciting discounts to its customers. It's our way of telling that we care. I'm sure that we will get an over whelming response this time, too. 25% reduction is a good enough discount!"
To get the 25% discount on any of the StealthGenie products- Android, iPhone or BlackBerry tracker, the discount code 25val13 can be entered in the 'enter code coupon' field after selecting the desired product on StealthGenie website.
StealthGenie is a smartphone tracking application compatible with Android, iPhone and BlackBerry phones to keep a check on employees and kids. This remote tracking application lets the user trace GPS location and other mobile usage stats. For more details, visit http://www.stealthgenie.com.