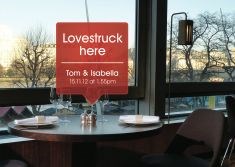 By harmonising TV and online advertising in a way that has never been seen before in the UK, we will heighten the impact of Lovestruck's TV advertising campaign.
London (PRWEB UK) 10 February 2013
Lovestruck.com has unveiled a cutting-edge dual screen integrated media campaign, created via adconnection, to promote its premium online dating service.
The campaign, which launches today, uses online display banners to 'roadblock' targeted sites and audiences only at times coinciding with Lovestruck's TV spots.
Brett Harding, MD & co-founder at Lovestruck, said: "This is a key time of year for us, and having a unified, connected approach to advertising will communicate the Lovestruck message effectively. We have been really impressed with adconnection's strategic approach with this campaign."
Online banner ads will be placed on websites relating to the content of the TV programme in question, during – and up to thirty minutes after – Lovestruck's TV spots. For example, fashion sites will be targeted during 'Gok's Fashion Fix', and home improvement sites during 'Location Location Location'.
Catherine Becker, CEO at adconnection, added: "By harmonising TV and online advertising in a way that has never been seen before in the UK, we will heighten the impact of Lovestruck's TV advertising campaign, and maximise direct response rates from potential Lovestruck customers. This campaign was made possible by the work of our in-house trade desk, Adform, who we worked with to develop this technology."