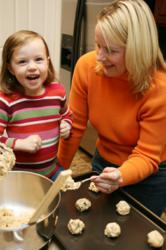 (PRWEB) February 13, 2013
Families whose children have been removed from their home because of unsafe conditions, abuse or neglect have the opportunity to learn valuable parenting skills, receive intensive counseling and have comfortable, supervised visits with their children in this home-like setting.
Kathy Lockhart, Adoption and Foster Care Coordinator for Eagle Village shared, "We've always worked with biological parents through our foster care program. Unfortunately, it always had to be in a conference room or similar space. The Allen House now gives us the ability to teach parents, in a hands-on way, many of the things they may struggle with – proper home cleanliness, nutritious meal planning or how to safely bathe their baby, in a real home setting."
The Allen House was originally home to the Kermit and Jean Hainley family, founders of Eagle Village in 1968. Over the years, after the Hainleys moved, Chaplains or maintenance personnel for the Village would rent the home and the buildings always remained in use. In 2011, leadership at Eagle Village saw their Foster Care and Adoption departments growing and began brainstorming how they could accommodate the increased numbers of families and children coming through the programs. Renovations to the Allen House seemed the logical next step. Thanks to donations of materials, labor and furnishings by John Jones and Jeff Fauble, both of Cadillac along with several other generous donors, families can get the real-life coaching they need to get back on track and be successful parents.
One mother commented, "I was so upset that I didn't have my daughter with me anymore. I felt like a failure. After I met with my worker at Eagle Village for a while, I started to figure out where I had gone so wrong." When asked about her visits to the Allen House, she shared, "It was comfortable. It was like being at home and I got to really practice some of the things I've learned. I'm starting to feel like a better mom."
Eagle Village continues to grow and expand its foster care and adoption programs in an effort to better support the growing number of Michigan children and families needing help.
Eagle Village is a non-profit family treatment center providing Intervention Services and Camps, Residential Treatment, Foster Care and Adoption services for all counties in Michigan. If you know of a family in crisis that may benefit from these programs contact Eagle Village at 231-832-2234 http://www.eaglevillage.org