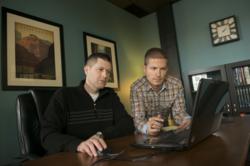 We're excited to usher in 2013 with this new design
Lancaster, PA (PRWEB) February 11, 2013
Internet marketing firm, Sharp Innovations, Inc., has today announced the launch of a completely redesigned website built specifically with the mobile professional in mind. The updated site has been built using "responsive" design techniques that allow it to scale dynamically based on the user's device—desktops, laptops, tablets and mobile phones will each display a slightly different version of the same website, helping to ensure an optimal user experience. This new website also comes at a time when the Sharp team more aggressively promotes new services that include social media and blogging management.
"We're excited to usher in 2013 with this new design," said company President, Paul Mindemann. "It's essential that prospective clients experience our online presence in ways that cause them to question whether their own online efforts are doing enough for their business," Paul added. He also noted that, "beyond the functional aspects, we have redesigned key visual elements, since we are our own best advocates for good design and ease of usability."
Founded in 1999 by entrepreneur and current CEO, Joseph Sharp, Sharp Innovations offers a full suite of Internet-related services, including programming, design, search engine optimization (SEO), social media management and web hosting and support. Its clientele is not limited to eastern Pennsylvania, with services having been provided to clients throughout the United States and across the globe. Sharp Innovations, Inc. specializes in providing proven Internet solutions for a select group of clientele ranging in size from local, medium-sized business to larger, publicly traded companies.