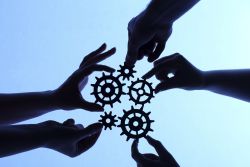 The real value of your intellectual property process is efficiently and strategically finding the best inventions to develop.
Pittsburgh, PA (PRWEB) February 14, 2013
The paper, entitled "Top Ten Best Practices for Patent Review Teams," is available in white paper form directly from MindMatters Technologies.
Written for managers, participants, and administrators of an organization's patent review team, it provides a framework for establishing a highly efficient invention review process. The best practices are based on nearly a decade of investigation into the overall intellectual property process, and have been shown to improve inventor participation to nearly 95% while simultaneously reducing the time from invention to patent application by 67%. Whether the organization already has a team in place or is considering starting a team, the paper offers suggestions ranging from rewards to team composition.
According to Gabrick, "When patent programs are established, organizations naturally consider the process for collecting inventions, concepts, and ideas—all of the up front issues, yet only give cursory thought to the review and management process." A major issue with the invention process is the large number of inventions that often get submitted. Most groups believe that having too many invention submissions will be a good problem, however, this can quickly lead to an overwhelmed review team and missed opportunities. And while it's important to make sure that there is a good supply of inventions, the real value of an innovation program is actually finding the best to patent.
The paper is available for download at http://www.mindmatters.net/Resources/WhitePapers/TopTenBestPracticesforPatentReviewTeams.aspx
For more information contact:
MindMatters Technologies, Inc.
308 East Main Street
Carnegie, PA 15106
412-489-5900 x4