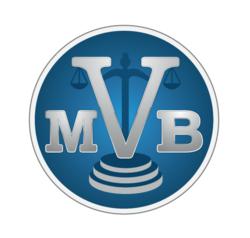 I'm excited to announce my new logo which is not only bold, but also well defined. It displays my commitment to the law and the clients I serve.
Baltimore, MD (PRWEB) February 08, 2013
A seasoned lawyer in Maryland and also licensed to practice in Nevada with experience as both a prosecutor early in his career and defender for the past thirty-plus years, Mark Van Bavel has handled criminal, domestic, accident, workers compensation and personal injury cases over the past four decades. Mark has handled multiple major state and federal cases over the years with significant results. Since his career started, he has won thousands of cases for people both regionally and nationally.
The new Mark Van Bavel Law Office logo represents his success, dedication and passion for the law and the clients MVB represents. Mark would like to thank those who publicly voted to help choose the final logo that will represent the MVB Law Office.
Van Bavel was a founding partner with a prominent Baltimore firm for over 20 years before deciding to go into practice for himself. For the past 12 years he has had his own firm that was originally located in Baltimore City and recently moved to Baltimore County where he is joined by Kim Van Bavel.
Van Bavel's expertise in many aspects of law translates into superior litigation abilities. Using both his courtroom and legal knowledge, Mark Van Bavel, P.A. is now handling a wide variety of civil litigation cases including personal injury, medical malpractice and complex civil litigation.
Mark Van Bavel P.A. has over 40 years' experience in criminal, domestic, accident, workers compensation & personal injury law resulting in outstanding legal ability and highest ethical standards Martindale-Hubbell ratings. Mark is a member of the Maryland Bar Association, Baltimore County Bar Association, National Criminal Defense Lawyers Association & the Nevada Bar.
Call 410.385.1313 today to schedule your consultation with one of the most experienced defense lawyers in Baltimore.
Mark Van Bavel, P.A.
40 W. Chesapeake Avenue, Suite 506
Baltimore, MD. 21204