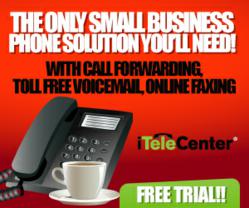 It looks really good to your potential clients, is good for business, saves your clients money, helps your business grow and offers intangible benefits like trust, reputation and professionalism. It's a small investment for the potential for a great ROI!
Piscataway, NJ (PRWEB) February 11, 2013
iTeleCenter welcomes Fusion West Media to its extensive list of satisfied customers. Fusion West Media, a full service web design company located in Alberta, Canada, recently started using iTeleCenter's virtual phone system to fulfill its business communications needs.
Fusion West Media is a Custom Web Design & Development Company. The Calgary based company serves all of Canada and the US. They specialize in creating small business websites and search engine optimized websites designed to outrank their clients' competition and increase their sales. They are able to meet all of their clients' online business needs from Web Design, Programming, SEO, Logo Design, to Corporate Identity Design and Website Hosting. They provide web solutions tailored to each client's unique business needs.
Prior to implementing iTeleCenter, Fusion West Media faced a numbers of issues. Their potential out-of-town clients were reluctant to call them because of incurring long distance charges which in turn caused them to lose out on potential sales. Additionally, their business lacked the appearance of a professional, well-established company.
Through a Google search for the "best toll free number", they were directed to iTeleCenter's website. They selected a business number from a list of available 1800 numbers and immediately started enjoying the benefits of the system's business-class features. They recorded a professional greeting which is the first thing potential customers hear when they call. Calls are routed right to the business owner's cell phone in an effort to ensure that no call goes unanswered. When a call cannot be answered, the caller is sent to voicemail. When a message is left, it is immediately emailed directly to the business owner where he can read the transcribed message or can click a link to listen to it.
iTeleCenter has significantly increased the perception of Fusion West Media as a reputable, professional business. It has also increased the number of its potential clients by enabling callers to now reach them free-of-charge. The decision to purchase a toll free number has helped them build a sense of trust and caring for their clients. This is the level of service that their clients expect of a professional web design company and they provide no less.
When Christopher Schulz was asked what he would tell others about iTeleCenter, he responded, "Definitely go with iTeleCenter. They provide many useful features, offer great service, easy to use, quick set-up and all for an affordable price. It was a wise business decision to use iTeleCenter."
About iTeleCenter
iTeleCenter was founded in 1992 by entrepreneur Paul Champaneria who wanted to build a company that catered to the needs of virtual companies, direct salespeople, affiliate marketers, real estate professionals, and all forms of home-based or small businesses. iTeleCenter is a virtual phone system that provides individuals with the ability to utilize toll free phone numbers, locally based numbers, or vanity numbers, with call forwarding and voicemail that make professional life a little easier. With the best in customer care and service, along with the latest and most innovative features, it's a must have for professionals who want to compete on a regional or national level, whether it's a one-man operation or a million-dollar corporation.