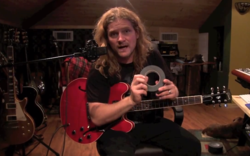 this stuff rocks
Hickory, N.C. (PRWEB) February 11, 2013
Frank Hannon, lead guitarist for the multi-platinum rock band TESLA and guitarist for his namesake band Frank Hannon Band, said it simply: "this stuff rocks." But, he wasn't referring to his music; it was his brand of choice for gaffer's tape: Shurtape®.
From taping down wires on stage to securing his drum machine to the studio console, Hannon seems to have countless uses for this gaffer's tape. "You just never know what you're going to use it for," said Hannon in a video recorded at his RedHawk Records Studio.
Suited for audio/visual, television, photography, theatrical and motion picture applications, Shurtape gaffer's tape (P-628) is a high-tack, weather-resistant tape that removes easily without leaving behind a residue. "It peels up nice and it doesn't leave a bunch of gluey, sticky stuff everywhere," said Hannon.
Beyond the stage and studio, it's also handy for bundling wires, taping down lighting and props, and masking silk-screen frames – especially as its matte finish resists glare from the lights on stage. A versatile, highly conformable tape for quick and easy set-up, Shurtape gaffer's tape is available in a variety of "cool" colors, including black, white, red, yellow and blue, as well as one of Hannon's "personal favorites," glow-in-the-dark.
Check out Hannon's video that explains why he uses Shurtape on YouTube®. For more information about Shurtape gaffer's tapes, please visit http://www.shurtape.com or call 888.442.8273.
###
SHURTAPE®
Shurtape®, Hickory, N.C., is an industry-leading producer of pressure-sensitive tapes designed to meet the most exacting standards. Products include masking and paper, foil and film, packaging, double-coated, cloth and duct, and other specialty tape products, in addition to packaging dispensers and equipment for automated and manual packaging applications. Shurtape proudly serves a variety of markets, from painting and packaging to HVAC and transportation, with facilities in the United States, Canada, United Kingdom, Germany, Mexico, Peru, United Arab Emirates and China. For more information about Shurtape, visit http://www.shurtape.com or follow us on Twitter® (@shurtapetech).
Frank Hannon Band is now touring their Six String Soldiers album, and TESLA is touring and writing their next one.
TESLA: Jeff Keith (Vocals), Brian Wheat (Bass and Manager), Frank Hannon (Lead Guitar), Dave Rude (Rhythm Guitar), and Troy Luccketta (Drums).