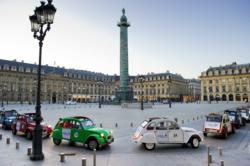 . . .without a committed and dedicated workforce, things will not run smoothly.
(PRWEB UK) 12 February 2013
One of the most studied areas in the personnel field is motivation: What drives an employee to reach a goal? The answer is not simple, but one thing is for sure: Money is not employees' primary consideration. The good news is that, "staff are more motivated by having interesting work, being appreciated for their contributions and being kept well informed", claims Victor Tardieu of Full Circle Motivation.
This is not to say that money is not important, of course. People need a decent salary, and job security is also important. Both are difficult for employers to deal with in the current economic climate, but keeping staff motivated is in their interests – without a committed and dedicated workforce, things will not run smoothly and business will drop.
A great way to inspire staff is to offer travel incentives. These need not necessarily be lavish, weeklong trips to exotic islands – a short break is an effective incentive that can lead to long-lasting motivation. Full Circle has a range of bespoke incentive travel options that will suit any boss's budget, and for a short break that will pay dividends in the long term, a trip to Paris is ideal. With its history, architecture and culture, it is such a popular destination – and easy to reach, too, with the Eurostar frequently departing from London St Pancras International.
Lucky team members can enjoy a continental breakfast before travelling business class. Upon arrival, the Paris itinerary is endless: treasure trails on the Seine are available, as well as quirky tours of the French capital in a Citroen 2CV and a personal shopper at Galeries Lafayette. A visit to Paris is a great way to say thank you to a deserving staff member. And Paris isn't alone – businesses can equally easily inspire staff with Amsterdam, Brugges or a little further afield, Hamburg.
The success of this strategy lies in:

careful positioning of the programme,
launching with vigour and commitment
setting fair, quality or quantity measurement criteria
measuring peers on a regular basis and weekly if possible
providing regular feedback to staff on how they and the company are performing
publicly recognising the best amongst equals on a regular basis
making token awards on a regular basis
making a public announcement of the city break award winners (note, this does not need to be an expensive package)
The most important element of all, according to Victor Tardieu of Full Circle Motivation is to over communicate throughout the life of the incentive.