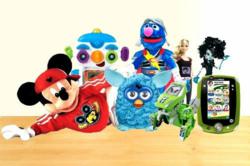 Melissa Rodriguez has already begun compiling her list of the best toys of 2013, helping the most avid of shoppers to get on the inside track for the coming year
San Fransisco, CA (PRWEB) February 09, 2013
Brand Outreach the brand management specialists recently announced a partnership with hot blogger Melissa Rodriguez to gain exposure for her list of the best toys of 2013. The campaign will include publicity, manual outreach and social buzz according to Brand Outreach.
Joe Bragg of Brand Outreach commented on the list;
"Many believe that the hype for Christmas starts too early, but Melissa Rodriguez believes it can't start soon enough. She has already begun compiling her list of the best toys of 2013, helping the most avid of shoppers to get on the inside track for the coming year. Her previous toy lists have built up quite a following but we believe with our help her toy list will reach more consumers than ever before."
Melissa commented on why her toy list is releases so early in the year;
"It's funny, people think it's a little absurd to be thinking about Christmas gifts in January, but they forget that these make great birthday gifts, as well as there being regular sales and reductions on these types of items, meaning the well prepared can potentially make huge savings."
The best-seller list does not just include toys for children, but gadgets and games that adults enjoy as well. The increasingly popular Cards Against Humanity is currently high up the list, and even higher is the second expansion pack for the same game, offering new and more depraved variants than ever.
From here the list breaks down into categories, from remote control to plush toys to outdoors and dolls. They are also categorized by store and by age group, meaning any search can quickly be reduced down to only the most relevant results. From here, parents can find ready information on price and availability with high quality product imagery.
Melissa described her process as ongoing, "It's important that readers check back regularly, as this resource is continually being updated and we're only in January. The definitive Best Toys 2013 list will be compiled in time for Christmas at the end of the year, but there are several major times, the next one being Easter, at which new toys are released en masse, and so the listings are sure to change as new options enter the market."
Joe from Brand Outreach commented;
"Melissa's toy lists are always evolving which gives us lots of opportunities to promote them. We foresee big outreach campaigns before every major holiday."
About Melissa: Melissa has been writing for Squidoo since 2010. She is passionate about kids and blogs about toys and games. At the end of the year, she will publish her hot toys for Christmas list. For more information, please visit: http://www.squidoo.com/top-toys-for-christmas-list
About Brand Outreach: Brand Outreach is a brand management business that boasts clients across the globe. Brand Outreach specialize in promoting and defending online reputations. They use traditional media channels as well as Social Media to grow brands and interact with customers target markets.