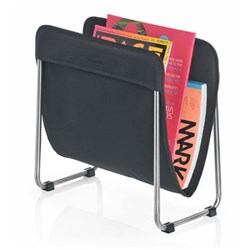 Based on a sturdy metal frame, the magazine rack features a thick fabric cover that hangs down to cradle magazines and papers.
(PRWEB) February 12, 2013
Contemporary Heaven offers a wide range of designer branded storage accessories] for the modern home, including magazine racks, coat hooks, doorstops and book ends, umbrella stands, wine racks and shelving. The magazine racks collection has recently been expanded with a new addition from the German designer brand Blomus, which creates unique and often minimalist modern home accessories. Blomus have a wide ranging catalogue which includes luxury and high end home accessories for the kitchen, bathroom, living room and garden, many of which are constructed using high quality stainless steel.
This newest addition to the Blomus collection at Contemporary Heaven is a minimalist styled magazine rack with a very adaptable design. The Levio Magazine Rack has a simple appearance that will work almost anywhere and is available in different colour options, like contemporary lime green, black, red or mocha brown. Based on a sturdy metal frame, the magazine rack features a thick fabric cover that hangs down to cradle magazines and papers. The fabric is fairly stiff so will keep its shape nicely while also being able to hold a lot of weighty magazines and thick papers.
Other magazine racks available at Contemporary Heaven include novelty shaped magazine racks from Balvi, acrylic magazine racks from Mascagni, metal magazine racks and African inspired magazine racks from the South African artist Carrol Boyes. There are also some container cubes from Kartell that can be adapted to suit any storage purpose, which includes the creation of larger storage units by fitting multiple cubes together. Different styles of magazine racks from floor standing magazine racks, wall mountable magazine racks and extendable magazine racks are available.
The Levio Magazine rack bears a strong resemblance to the Madra Log Holder from Blomus, so could also be used for holding small logs beside little wood-burning fires. Levio could also be used in other rooms throughout the household, like in the bathroom for neatly storing rolled-up towels or face cloths, creating a very contemporary atmosphere.
About the Company
Contemporary Heaven is a Hertfordshire based retailer and manufacturer with online outlets in the UK, Holland, France, Germany, Poland and the US. They are a subsidiary of Roco Verre LTD which has been in existence for more than 15 years, supplying a range of home accessories to retailers, businesses and individuals. Their range of home accessories includes modern clocks, custom time zone clocks, personalised school clocks, coasters and placemats, unusual wall mirrors, storage solutions, contemporary lighting, bathroom accessories, barware and much more.
For more information, visit http://www.contemporaryheaven.com.
Contact Details:
Roco Verre Ltd
Contemporary Heaven Division
68 Wilbury Way
Hitchin
Herts
Ph.: 44 (0)1462 451199