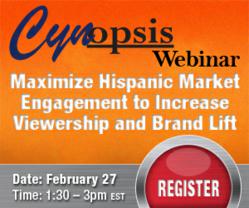 New York, NY (PRWEB) February 08, 2013
Cynopsis Media will hold the Webinar "Maximize Hispanic Market Engagement to Increase Viewership and Brand Lift," on Wednesday, February 27 from 1:30 p.m. to 3:00 p.m. ET. Our experts will discuss the newest tactics and strategies to harness and monetize the $1 trillion buying power of the Hispanic consumer.
Expert speakers include: Christine Maggiore-Escribano (EVP, Integrated Marketing Solutions at Telemundo Media), Diane Librizzi (CEO/Executive Producer at La Loca Entertainment), Steve Mandala (EVP, Advertising Sales at Univision Communications Inc.), and Tony Ruiz (Partner, Communications Planning at The Vidal Partnership).
At this information-packed, 90-minute webinar, we'll address:

Leverage the powerful US Hispanic market of 52 million, resulting in ROI growth for clients and brands.
Capitalize on new technologies such as mobile, tablet and apps to reach this valuable market - 60% of whom are under the age of 45 years old.
Get expert information on the behavioral, psychographic data of this unique demographic.
Capitalize on the latest social media tactics – such as Google Plus, a particular favorite of this market - to engage consumers and drive brand awareness.
Find out the latest research on where Hispanics are sharing their opinions on new services, brands, and products – such as Tu Cuentas
This interactive webinar will allow for real time Q&A's to ensure specific questions are answered.
To register for the Capitalizing on Mobile Video: Strategies & Tactics to Drive Revenue webinar, visit: http://www.cynopsis.com/webinars/hispanic-market/
Each Cynopsis Media webinar registration includes one year of online access, full access to speaker presentations and a certificate of completion. Questions? Contact Trish Pihonak at trish(at)cynopsis(dot)com.
About Cynopsis Media
Cynopsis Media is a division of Access Intelligence LLC. The Cynopsis Media family of products includes Cynopsis, Cynopsis: Digital, Cynopsis: Kids and Cynopsis: Sports daily e-publications, weekly Cynopsis: Classified Advantage e-publication, Special eReports, Event/Summits and a strong database of Classifieds and more. Visit http://www.cynopsis.com.
###