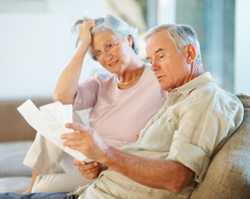 The weakening of the pound and the ongoing issue of frozen pensions means that expats may continue to get squeezed over the coming years
London, UK (PRWEB UK) 11 February 2013
Pryce Warner International Group – According to research by Lloyds TSB the majority of expats due to retire soon realise that their pension pots will not sustain their present lifestyle.
The research showed that over 50% of expats who are currently working stated that they will have to reduce their outgoing expenses by a substantial margin when they retire.
Only 30% of expats stated that they had a large enough pension pot to maintain their current lifestyle.
Despite this, the vast majority of expats (75%) stated that the quality of life and cost of living was higher abroad than in the UK.
Though there is a perception that expats move abroad to live in sun and luxury, for the majority of people this is not the case.
According to the Home Office, the majority of UK expats are of working age (93%). The few approaching retirement that are concerned about their pensions generally only have modest lifestyles at present.
It is in fact those on lower incomes that are most concerned about their pension not covering their current lifestyle, as the weakening of the pound has caused many expats to lose a lot of money. Over 500 000 expats around the world also have their pensions frozen at the rate they are first drawn (according to the International Consortium of British Pensioners), meaning they do not increase in line with inflation over time.
However, there are several things expats can do to strengthen their pension pots, for example transferring their pension outside of the UK to a QROPS or QNUPS.
David Retikin, Director of Operations at Pryce Warner International Group, commented: "The amount of expats concerned about their pension pot's ability to cover their retirement expenses is highly concerning. With the continuing economic problems in Europe and the rest of the world, the weakening of the pound and the continuing issue of frozen pensions, expats may continue to get squeezed over the coming years. Fortunately, expats approaching retirement age that have moved outside the UK for over 5 years can move their pension abroad to a QROPS or QNUPS. These pension services are designed specifically for expats and allow them to get better rates of return, and therefore help expats maintain a good standard of living well into retirement."