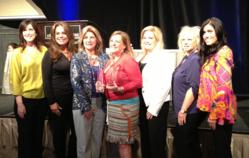 Pam and her entire team have worked diligently to set the very highest standards of customer service and cooperation with our corporate home clients and residents, our vendor partners and other housing providers.
-- Sue Ansel, Gables Residential CEO
Phoenix, Arizona (PRWEB) February 08, 2013
The Annual Tower of Excellence Awards luncheon for the Corporate Housing Providers Association (CHPA) was held in Phoenix, Arizona Wednesday afternoon February 6, 2013 where it was announced that Gables Corporate Accommodations (http://gca.gables.com) received two prestigious awards - Company of the Year for companies with more than 300 units and Vice President of Gables Corporate Accommodations, Pam Wade, was awarded Individual of the Year. The judging criteria for both awards was determined by rigorous judging of specific metrics including financial results year over year, exceeding guest expectations as measured by survey results and testimonials from guests or clients, involvement in CHPA through committee, board or other volunteerism, fostering relationships with other corporate housing providers, supplier partners, and creating new programs or solutions that enhanced their business and reputation of the corporate housing industry.
Sue Ansel, Gables Residential Chief Executive Officer commented, "These two awards are tremendous accomplishments of which Gables is very proud. Pam and her entire team have worked diligently to set the very highest standards of customer service and cooperation with our corporate home clients and residents, our vendor partners and other housing providers. Through their dedication and commitment to 'Taking Care' of our residents GCA is an important complement to managing our own apartment communities and adds value for the owners of our fee-managed communities nationwide."
Dennis Rainosek, Senior Vice President Portfolio Management noted, "Receiving two Tower of Excellence Awards is a significant accomplishment and we are extremely honored to have been recognized by CHPA. The Individual Award received by Pam Wade is a testament to her tireless contributions and dedication to the corporate home industry. Pam has been with Gables for 23 years and is a respected leader who is fondly and deservedly referred to by her peers as a legend and icon in the industry."
Pam Wade, Vice President of Gables Corporate Accommodations said, "We are extremely honored to receive the two CHPA awards and accept them with pride and humility given the excellent companies we consider our friendly competition. Being involved in such an active professional association as CHPA has given me the opportunity to develop mutually beneficial partnerships that contribute to our success. Accolades to the entire Gables Corporate Accommodations team for without their dedication and commitment to excellence these achievements would not be possible."
GCA made CHPA history by being the only company to have received the Company of the Year award three times, in 2003, 2012 and 2013.
# # #
About Gables Corporate Accommodations
Gables Corporate Accommodations is a division of Gables Residential specializing in providing furnished corporate housing nationwide. Offering a range of housing solutions for one to one hundred or to an entire corporation, GCA specializes in delivering the comforts of home and efficient solutions for temporary furnished housing. GCA combines cost-effective ideas, personal service and the simplicity of their "One Point of Contact" program. To discover more about GCA and living solutions that meet your needs, please visit http://www.gcarent.com or call 866-422-7368.
About Gables Residential
With a mission of Taking Care of the Way People Live, Gables Residential has received national recognition for excellence in the management, development, acquisition and construction of luxury multi-family communities in high job growth markets. Gables Residential owns, develops and manages multi-family communities and mixed-use developments in Atlanta, Austin, Dallas, Houston, South Florida, Southern California, and metropolitan Washington, D.C. Additionally, it has third-party management operations in the Chicago, New York, Boston, Phoenix, Central and North Florida, and Washington State markets. Gables Residential enjoys a healthy portfolio with approximately 35,000 apartment homes under management, including a corporate-owned portfolio of 54 stabilized communities comprising approximately 14,000 apartment homes. An additional 9 communities are under development/lease-up, comprising approximately 3,000 apartment homes. Gables also has the ability to develop another 3,000 apartment homes through its shadow pipeline of undeveloped land owned. For more information please visit http://www.gables.com.