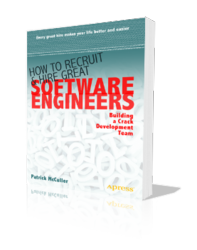 To succeed with software, you need a great team. Not just good—great." --Will Iverson, CTO of Dynacron Group
New York, NY (PRWEB) February 11, 2013
Some studies show that really good programmers can be as much as 5 or even 10 times more productive than the rest. How do you find these rock star developers and get them to work for you? Patrick McCuller, an experienced engineering and hiring manager, has made answering that question part of his life's work, and the result is this book.
In the foreword to "How to Recruit and Hire Great Software Engineers: Building a Crack Development Team," Will Iverson, CTO of the Dynacron Group, writes, "To succeed with software, you need a great team. Not just good—great." Couldn't be simpler than that. But it's a tall order. Easy? No way. Until now. This book is a field guide and instruction manual for finding and hiring excellent engineers who fit the team, drive success, and provide companies with a competitive advantage. Focusing on proven methods, the book guides managers through creating and tailoring a hiring process specific to their needs. They'll learn to establish, implement, evaluate, and fine-tune a successful hiring process from beginning to end.
"How to Recruit and Hire Great Software Engineers" will prove invaluable to new managers. But McCuller's deep thinking on the subject will also help veteran managers who understand the essential importance of finding just the right engineer—one who will fit into a company's culture and adapt creatively to all its projects both now and in the future. As astute managers know, if you hire well, you sleep easier at night.
To learn more about "How to Recruit and Hire Great Software Engineers: Building a Crack Development Team", visit http://www.apress.com/9781430249177.
About Patrick McCuller
Patrick McCuller is a software development manager in Seattle, Washington, with eighteen years of engineering and engineering management experience. As an engineer at Microsoft, Sony, and many other companies, and as a development manager at Amazon, Live Nation, and Audience Science, he has conducted many hundreds of interviews and made a significant number of extraordinary hires. He has spent hundreds of hours analyzing and engineering hiring processes, and he loves to interview.
About Apress Media
Apress Media LLC is a technical and business publisher devoted to meeting the needs of IT professionals, software developers, programmers, and business leaders with more than 1,000 books in print and electronic formats. Apress provides high-quality, no-fluff content that helps serious technology professionals build a comprehensive pathway to career success. For more information about the innovative approach Apress takes to publishing, please visit http://www.apress.com.