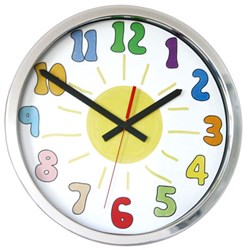 Design possibilities are endless and because the dial is printed on demand, one-off production pieces are available, or orders can be made for hundreds.
(PRWEB) February 13, 2013
Contemporary Heaven has long offered a wide range of wall clocks specifically geared up for personalisation, including clocks with names or mottos printed on the dials, mirror clocks with personal frosted names and clocks which can be personalised with a company logo or design. Now, with the introduction of the DIY Clock, personalising a clock has been made extremely simple.
The DIY Clock is basically a blank canvas, and starts with a choice of polished metal, brushed metal, satin white or fire engine red cases. The dial is then completely made to the customer's specifications, printed with a personal design which can be anything from a company logo or image to a child's drawing or an artist's prized work. Measuring 35cm, the clock consists of a printed dial, black hour and minute hands, a red seconds hand, a glass front and a metal case in four finishes. Design possibilities are endless and because the dial is printed on demand, one-off production pieces are available, or orders can be made for hundreds. The maximum time estimated for the manufacture and delivery of this personalised clock is fourteen working days, but often personalised clocks are despatched much sooner since most materials are kept in stock.
Ordering this personalised clock has been made as easy as possible, with downloadable templates available online for both digital and hardcopy artwork. Digital artwork is slightly easier since the customer simply downloads the relevant file and uses image manipulation software to add their design to the file in the desired manner before sending it back to Contemporary Heaven via email. If use of image manipulation software is not available, the customer would need to download the template and print onto paper. The design can then be drawn or painted onto the paper template and scanned back to digital format to be sent via email to Contemporary Heaven. This option is especially useful for getting children to design a clock since any medium on paper can be used including pencil, paint, crayon, decoupage, felt tip pen and more.
Contemporary Heaven also offers personalisation on other established designs for if a particular name or logo is desired. Logos can easily be incorporated into most of the Roco Verre clock designs and a range of previously personalised clocks can be viewed on the custom gallery at Contemporary Heaven. Many large and well-known companies use Contemporary Heaven to manufacture bespoke modern clocks with a personalised logo or company name and many individual customers also have personalised clocks made to order as special gifts.
About the Company
Contemporary Heaven is a Hertfordshire based retailer and manufacturer with online outlets in the UK, Holland, France, Germany, Poland and the US. They are a subsidiary of Roco Verre LTD which has been in existence for more than 15 years, supplying a range of home accessories to retailers, businesses and individuals. Their range of home accessories includes modern clocks, custom time zone clocks, personalised school clocks, coasters and placemats, unusual wall mirrors, storage solutions, contemporary lighting, bathroom accessories, barware and much more.
For more information, visit http://www.contemporaryheaven.com
Contact Details:
Roco Verre Ltd
Contemporary Heaven Division
68 Wilbury Way
Hitchin
Herts
Ph.: 44 (0)1462 451199