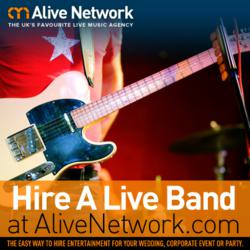 Alive Network, the UK's largest live entertainment and function band booking agency, has just announced that their company earned over £5.5million for UK artists listed on their online booking service.
Newcastle under Lyme, UK (PRWEB UK) 12 February 2013
With over 4000 UK function bands, entertainers, and performers available, the fees earned by Alive Network equates to an impressive £13,750 per act listed.
The Alive Network website offers a wide variety of live entertainment acts, from magicians to opera singers, but it is party bands that were booked most frequently in 2012.
Despite the forecasts of deep recession and reduced spending, brides and grooms, couples celebrating anniversaries and birthdays chose to delight their guests with quality live entertainment.
In turn, UK performers and artists were properly paid and rewarded for their talents, as well as providing a great deal of enjoyment for many happy partygoers!
Artist Manager Rich Hearn attributes much of the agency's success to their innovative online booking system.
"Our agency was the first to put full artist details online, from profiles to audio track samples, and to provide online quotes. The system takes the guesswork out of how much a party band or string quartet might cost, so people know how much to budget for.
"Our Alive Network search engine allows anyone to search for exactly what they want, by function type, music style, location, price and date. The system also shows if the party bands or artists are available on their chosen date, saving delays or disappointment later."
Unlike other online booking agencies that just provide contact details, Alive Network created a unique system of customer support to inform and protect both bookers and artists.
Every booking is managed by an experienced entertainment coordinator who customers can ring and talk to. Comprehensive contracts are issued so everyone is clear what has been booked and what is provided, with a 24 hour emergency support phone number in case of problems.
The high level of fee income for artists for 2012 is no accident either. Artists with Alive Network are respected and nurtured, and several popular UK party bands and function bands work all year round exclusively for the agency.
Alive Network even has its own recording studio where bands and musicians can record their demo tracks, plus a photographer's studio for professional photos, all at their HQ in Staffordshire. It is a comprehensive package of care for UK artists that is unique amongst UK booking agencies, and supports many talented artists who receive no financial backing or grants from any other sources.
Managing Director Dave Bevan is confident that 2013 will be Alive Network's busiest year yet.
"For us, the £5.5 million in fees generated showed that when the going gets tough, the tough go party and enjoy themselves even more! Our party bands worked almost non-stop last year for private parties, weddings and corporate functions.
"In addition, our artists have performed for corporate clients such as the BBC, Red Bull, BMW, Nike, Asprey, BT and Tescos, in many cases at events to win new customers and boost overseas trade.
"Already our booking diary is filling fast for 2013, so I'm confident that the UK will probably sing, swing, jig, salsa and rock 'n roll its way out of recession in 2013!"
For more details, go to http://www.alivenetwork.com
Alive Network is the UK's largest live music and live entertainment service, with over 4000 experienced musicians, bands and groups on its books.
Specialising in wedding function bands, party bands and corporate entertainment, Alive Network also offers a diverse range of musical styles, from classical to mariachi bands, Bollywood to big band, opera singers to bagpipers.
Customers can also browse a selection of the UK's best DJs and discos, plus an impressive range of entertainers from caricaturists to toast masters, and specialist suppliers for firework displays and PA hire.
Company contact:
Rich Hearn
enquiries (at) alivenetwork (dot) com
Alive Network Ltd
Ground Floor Suite
Silk Mill Studios
Princess Street
Newcastle under Lyme
Staffordshire
ST5 1DD
ENGLAND
Telephone: 0845 108 5500
Fax: 0845 226 3119
Opening hours: Monday to Friday 9am - 5.30pm