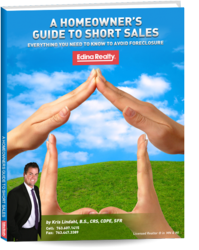 Time is of the essence.
Fridley, MN (PRWEB) February 08, 2013
Kris Lindahl of Edina Realty was in Fridley, MN yesterday afternoon to host a short sale strategies seminar. The seminar reached full attendance. Lindahl spent the afternoon listing strategies that he deems necessary to achieve a successful short sale process. The experienced agent used a major bank's requirements and guidelines to go through the process from beginning to end.
One of the strategies that Lindahl covered was 'time'. "Time is of the essence," Lindahl said at the seminar, and continued,"With an adequate and realistic time table the short sale process will be easier than if rushed." Despite this, Lindahl said, with the right agent the process will be more efficient than it normally would be.
Kris Lindahl believes that technology is the future of real estate. By combining his professional and technological expertise he has earned himself the unofficial title of Internet Marketing Specialist. "I know real estate like the back of my iPad,"Lindahl said.
Call Kris and his team at (763) 607-1415 for more information. Visit the Minnesota Short Sale Calculator website to check eligibility. Download a complimentary copy of the eBook titled "A Homeowner's Guide To Short Sales" and check out the video series on YouTube.