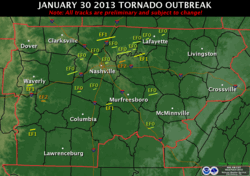 Over 46,000 households across 12 counties were quickly warned to take shelter...
Rochester, NY (PRWEB) February 08, 2013
A powerful weather system moved through the eastern US last month, producing tornadoes and other weather disturbances throughout the Tennessee and Ohio Valleys and leaving tens of thousands of people without power. Fortunately for the citizens of 15 middle Tennessee counties, they were warned in advance of the coming storms by Hyper-Reach, a service of Rochester, NY-based Asher Group.
The storms were literally historic, with 21 tornado tracks confirmed by the National Weather Service, making January 30th, 2013 the date with the largest number of January tornadoes in middle Tennessee history and the second largest of any date on record. Winds at ground level reached 115 mph and up to 150 mph at 20,000 feet. More than 40,000 homes lost power and there was at least one fatality and four injuries. The Tennessee Emergency Management Agency issued 26 Severe Thunderstorm Warnings, 27 Tornado Warnings, four Tornado Watches, and six Flash Flood Warnings for multiple counties statewide.
Thanks to the planning and preparation of 911 centers in Cannon, Clay, Cumberland, Dekalb, Fentress, Jackson, Macon, Overton, Pickett, Putnam, Smith, Trousdale, Van Buren, Warren, and White counties, over 46,000 households across 12 of those counties were quickly warned to take shelter via a combination of telephone and text messaging. As soon as the National Weather Service's warning came, the messages were created and transmitted automatically and without human intervention, providing the maximum available time to prepare and get protection.
The messages were sent using the Hyper-Reach system (http://www.hyper-reach.com), a mass notification system with over 12 years of experience in emergency notification. Hyper-Reach sends messages via automated telephone calls, text messaging (SMS), email, and social media, such as Twitter. Messages can be created by local personnel or automatically sent, depending on the emergency. Other uses of Hyper-Reach include Amber alerts, toxic chemical warnings, and armed shooter alerts.
The system calls all available landline telephone and pre-registered mobile phones. Citizens are encouraged to register their mobile phone numbers at their respective county website. A new service can also reach all mobile phones in a storm path.
"We've been very pleased with the performance of Hyper-Reach," said Chris Masiongale, Director at Overton Pickett Counties. "Not only has it proven itself in this past storm, but we've found many uses for it since signing up for the service."
"We're thrilled to be of service to the counties of Upper Cumberland, Tennessee", said Sam Asher, President of Hyper-Reach. "It's gratifying to know that we can play a small part in helping citizens protect themselves."
In addition to 911 centers, Hyper-Reach is used by law enforcement, educational institutions, and corporations.
For more information about Hyper-Reach, go to http://www.hyper-reach.com or call 585-586-0020.