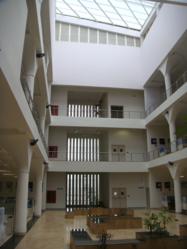 (PRWEB UK) 12 February 2013
With a population of 1.2 billion it is no surprise that India is the fourth largest energy consumer in the world, lagging behind only the USA, China and Russia.²
Demands for power to fuel the country's ever growing commercial workforce and buildings are vast; estimates indicate that for every 1.4 million new office-based workers the country would require a new 1GW power station solely to provide air conditioning* . As India continues to grow more power plants are required, all at a time when existing supplies have proved highly unreliable, leaving 300million without power during one incident in July last year.
However international integrated engineering consultancy Buro Happold and architects Chadwick International have just delivered a building which could have a significant impact on the country's energy use. Based in India, Xchanging plc is a leading provider of business processing and information technology. Demand for these services is high but a shortage of economically priced skilled labour in the traditional centres like IT focused Bangalore has forced the company to look further afield to create new employment opportunities and satiate this demand.
The brief to architects Chadwick International was to build a low cost, low carbon work place for Xchanging in the academic city of Shimoga, 280kms north west of Bangalore. Shimoga has no commercial office market to speak of but has a significant number of higher educational institutions in this rich agricultural area whose alumni Xchanging wish to engage. Chadwick joined forces with Buro Happold's to determine whether a passive design approach could be taken to the building which at that stage had been 'right sized' used their proprietary Organisational SpaceTime Modelling® technique.
The first step was to analyse the climatic conditions at Shimoga. Subsequent optimisation studies could then be undertaken to determine building massing, facade design, air flow within the building floorplate and systems design, and estimate the potential energy savings passive design could deliver.
Climatically Shimoga is situated in a tropical monsoon region where temperatures can reach 40 degrees C; not ideal conditions for office bound workers. The client, Xchanging, wanted to provide optimum working conditions to provide a comfortable and constructive workplace. Buro Happold's team suggested that an entirely passive conditioning system which would maintain acceptable conditions in this extreme climate was possible. Using an approach based on adaptive comfort the design team was able to eliminate electrically driven cooling systems, saving 40% of capital cost. This approach is hugely beneficial both economically and environmentally, and could help solve India's energy crisis.
Buro Happold processed and analysed large numbers of potential design permutations using computational analysis and parametric modelling to achieve a single recommendation for the optimal design. This resulting solution could deliver a building design with an amazing 100% shading of direct solar gain, but still provide high levels of daylight.
The design of the facade subsequently informed the floorplate design and the deep plan floor design which meant high floor to ceiling clearance and an internal atrium running through the building allowing daylight to penetrate deep into the centre of the building.
Wind analysis determined that a slight rotation of the building into the prevailing wind would maximise passive cross-flow through the north and south facades. Fresh air is harvested and channelled deep into the building through a series of four giant wind collecting stacks which form the top of the atrium roof light.
No design aspect was left unturned in order to deliver the most energy efficient building possible for Xchanging; high thermal mass, minimised internal loads, and cool landscaping minimising the heat island effect enabled the design team to create a building which reduces the operating costs for Xchanging by 25%.

Buro Happold Ltd calculations
² Source eia.doe.gov, 2009
Additional information
Shimoga (air conditioned) peak load 833 kW
Standard air conditioned building peak load would be approximately twice that of the bio-climatically optimised building 1666 kW
Number of occupant 1000
Equivalent peak load per occupant 1.666 kW
Chiller cop 3
Consumption per occupant 0.556 kW
Allowance for mechanical ventilation of 30% 0.723 kW
Power Station generation 1 GW
Number of new office workers equivalent to a new power station 1.38 million