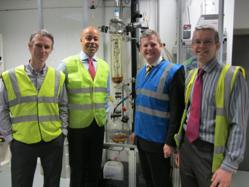 It's great to visit a thriving business involved with such a diverse range of fascinating projects and markets
Leeds, Yorkshire (PRWEB UK) 8 February 2013
Stuart Andrew, Member of Parliament for Pudsey, Horsforth and Aireborough, has visited a chemicals manufacturer in his constituency responsible for creating special effects for high-grossing fantasy blockbusters starring some of Hollywood's biggest A-listers.
Pudsey-based Vickers Laboratories created the chocolate river for Tim Burton's Charlie and the Chocolate Factory starring Johnny Depp and also special effects for a fantasy film last year featuring some of Hollywood's hottest current stars.
Vickers is also widely regarded as the leading producer of NVP (N-Vinyl-2-Pyrrolidone) for the contact lens manufacturing sector and has added six new recruits to its expanding business, as it looks to maintain its reputation for excellent quality and consistency of chemical manufacture and towards developing new products, markets and strategies.
Stuart Andrew MP said: "Vickers adding new staff to what is an exciting, thriving business is a real boost to the local economy and its job market.
"It's great to be able to visit a thriving business within the constituency involved with such a diverse range of fascinating projects and markets. Vickers is a business that I hope young people in the area will look at and aspire to work for."
Vickers has added has added a Technical Manager, a Customer Service Team Manager and four Process Operators to its growing workforce. In addition to NVP and creating special effects, Vickers manufactures solutions used in the water and pharmaceutical industries, biomedical devices and laboratory chemicals for use in education.
The business is committed to work in partnership with its customers to give them freedom from the increasing minefield of legislation surrounding the manufacture, packing and transportation of chemicals. Vickers also endeavours to provide a safe and continuously improving environment, both internally and within the local community.