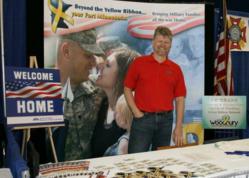 From 2011-2012 veterans received $6 million in scholarships from Globe schools.
Minneapolis, Minn. (PRWEB) February 08, 2013
Globe University, Minnesota School of Business and Broadview University were named again this year to the 2013 edition of GI Jobs' Military Friendly Schools, the well-respected directory of colleges and universities. For the 2013 edition the publication toughened its criteria for evaluating schools, and for the first time, included survey results from 3,000 student veterans. Numerous veterans personally recommended Globe University and its affiliate schools.
"Globe is truly a military friendly college. They allowed me to take tests online when I went with my husband to Ft. Knox for medical exams and care. I receive information from the Globe military staff about programs and benefits that might be of interest to military families," said Cheryl Felton.
Military Advanced Education (MAE) magazine also included Globe and affiliates in its 2013 Guide to Military-Friendly Colleges & Universities. Published since 2005, MAE serves armed services education service officers and other stakeholders who work with service members, veterans, and their families during active duty, transition, and post-transition to optimize their armed forces educational benefits.
Schools in MAE's guide are evaluated in such areas as on-campus support, financial, military culture and flexibility.
Recent Globe University IT graduate Anil Thobani is a U.S. Army combat engineer veteran with a tour in Afghanistan: "It may seem cliché to say, but small class sizes really do make a difference." He noted that gaining an effective information technology education requires a lot of hands-on technical skills, and being in a class with less than 10 people makes it much easier to learn the skills needed to be successful in IT.
Director of Globe's Military Services, retired army 1st Sgt. Mike Hughes, goes out of his way to create a welcoming culture for the schools' student veterans. Since 2010 Globe and affiliate colleges have educated more than 1,200 veterans, their spouses and dependents. "It's our philosophy of We Care that sets the standard for how we treat our students—veterans and non-veterans. That We Care mindset puts our students first and it shows in such niceties as generous scholarships."
From 2011-2012 veterans received $6 million in scholarships from Globe schools. The schools' principal veteran scholarships include the active duty/retired military scholarship (includes drilling National Guard/Reserve), military advantage scholarship and the Purple Heart scholarship. Most military scholarships are open to spouses and dependent children.
ABOUT GLOBE UNIVERSITY AND AFFILIATE SCHOOLS
Globe University, Minnesota School of Business and Broadview University are part of a premier, family-owned system of career colleges, universities and training centers based in Woodbury, Minn. These specialty-skills colleges prepare professionals for successful careers in a wide range of high-demand fields. Through its philosophy, We Care, the organization integrates hands-on education and applied-learning experiences that expose students to their communities and real-world situations. Programs offer undergraduate, diploma and graduate degrees in a wide range of career fields, including business and accounting, health sciences, legal sciences, technology, creative media and applied arts. More than 30 programs are available online. All academic programs are accredited by the nationally recognized Accrediting Council for Independent Colleges and Schools (ACICS). For more information, visit http://www.globeuniversity.edu.
# # #