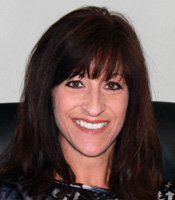 The Family Program helped us to realize that we were not alone in the struggle, that our loved one's addiction was not our fault, and provided a strong network of new friends for continuing support.
Laguna Niguel, CA (PRWEB) February 12, 2013
Celebrate Hope, the California faith based Christian drug rehab program offered at Hope By The Sea, is pleased to announce the 2013 dates for the Family Program: January 18, 19 & 20; February 15, 16 & 17; March 15, 16 & 17; April 19, 20 & 21; May 17, 18 & 19; June 21, 22 & 23; July 19, 20 & 21; August 16, 17 & 18; September 20, 21 & 22; October 18, 19 & 20; November 15, 16 & 17; and December 20, 21 & 22. "Our Family Program, now in its second year, is available to all clients and their family members, as well as families who do not have a loved one currently in treatment," reports Karin Scarpone, Hope By The Sea's Family Program Coordinator.
Karin Scarpone has been actively involved in the Family Program (see all details of the program including the weekend schedule, accommodations, and testimonials) since its introduction in 2011. When asked recently what participants seem to appreciate most about the Family Program, Ms. Scarpone offered: "One of the best aspects of the program is that it presents an amazing opportunity for the client and their family members to actually be able to communicate for the first time in a healthy, non-confrontational, productive manner that has probably been non-existent for a very long time. Our hope is that through education and understanding about the disease, changes can be made that will help free the family from the frustrations and powerlessness that they may be experiencing, and put them on the path to greater awareness of their loved one's addiction. The program helps to alleviate confusion and anxiety and promotes healing by identifying how addiction affects families and what family members can do to take care of themselves."
Additionally, Ms. Scarpone spoke briefly about the trials and rewards of working with the families during the Family Program: "The hardest part is getting families to understand that addiction is a family disease. Those closest to the addict often make well-intentioned decisions which inadvertently serve to prolong or worsen the severity of the disease. Our experience has been that once a family is educated, they can not only increase the quality of their lives but enhance their loved one's chances for success during active treatment and in their recovery efforts. We help them to recognize that they are dealing with a chronic, and sometimes fatal disease that requires a great deal of patience, love, and understanding. By becoming aware of the beliefs and experiences that shape their own behaviors, family members identify new, healthy ways of coping with addiction and relationships."
Indeed, addiction is a disease and like any disease all family members are affected in some way or another; however, many family members do not understand this concept until they have an opportunity to participate in a Family Program. One recent participant offered: "The 3 day Family Program provided us with the opportunity to learn, share, laugh and cry with other families who had loved ones in this program. It helped us to realize that we were not alone in the struggle, that our loved one's addiction was not our fault, and provided a strong network of new friends for continuing support."
Those interested in learning more about Celebrate Hope, a faith-based addiction rehab program offered at Hope By The Sea, and our Family Program please call 866-930-HOPE (4673).
About Celebrate Hope: Celebrate Hope is Hope by the Sea's Christian Residential Drug Rehab and Alcohol Treatment Program, located in the coastal communities of Orange County Southern California. As an integrated component of one of the very best treatment facilities and drug rehab programs in the United States, Celebrate Hope culminates a Biblical Christ centered approach to healing, restoration, and reconciliation to God, family, and to one's own dignity and self-worth. Celebrate Hope offers 30-60-90 day programs in a comfortable safe ocean environment. If you or a family member is in need of help call toll-free (866) 930-4673 24 hours a day seven days per week.