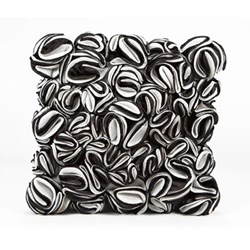 Elegant folds and soft furls cover the front of the Origami in a very organic fashion that is somewhat reminiscent of the structure of a rose.
(PRWEB) February 14, 2013
Having stocked Dreamweavers cushions, rugs and throws for many years, Contemporary Heaven are now expanding their range with the introduction of a new design. Already established as a designer soft home brand, Dreamweavers manufacture high end cushions and rugs in a variety of styles and colours, most of which are hand stitched due to the intricacy of the products. Dreamweavers have now produced a completely unique and extraordinary luxury cushion with the Origami design, which is available at the Contemporary Heaven online store or showroom.
The Origami cushion has been carefully engineered for a startling and expressive design, hand sewn for attention to detail and in keeping with modern fashion trends. Elegant folds and soft furls cover the front of the Origami in a very organic fashion that is somewhat reminiscent of the structure of a rose. Unusual material has been used to create this amazing cushion and the black and white colours create a bold contrast. The white fabric is a type of mesh fabric more commonly found in robust fashion garments like sportswear, and this white mesh carries through to cover the back of the cushion as well. Although delicate in appearance, the sturdy fabrics used and the sewing techniques employed make this a practical home accessory that will last very well.
Dreamweavers soft home has a strong reputation for producing some of the most luxurious high-end rugs and cushions, like the pebble range and the spiky range. Currently there are seven different designs of cushions available, four of which have matching rugs available. The most adaptable of the Dreamweavers Soft Home Collections is the pebble range, which comes in a wide variety of colours in both cushions and rugs. Fifteen colour options of the pebble range are available in four different sizes of floor coverings, from a handy little bedside rug to a whopping 9ft by 6ft rug.
Other designer soft home brands are also stocked by Contemporary Heaven, like the Calvin Klein Home rugs collection, which includes the elegantly simple Lunar Rug in three varied colours and the intricate Suede Masai Rug in two neutral colours. Nourison rugs are also available, along with colourful Zaida cushions and rugs which are handmade in Kashmir and feature bold patterns, many of which have been inspired by the famous artist Kandinsky. The Katrina Hampton range available at Contemporary Heaven is also stunning, featuring faux furs that are extraordinarily soft or fluffy. Katrina Hampton faux fur designs are available on cushions or luxury throws and vary from neutral creams or browns to bold animal prints.
About the Company
Contemporary Heaven is a Hertfordshire based retailer and manufacturer with online outlets in the UK, Holland, France, Germany, Poland and the US. They are a subsidiary of Roco Verre LTD which has been in existence for more than 15 years, supplying a range of home accessories to retailers, businesses and individuals. Their range of home accessories includes modern clocks, custom time zone clocks, personalised school clocks, coasters and placemats, unusual wall mirrors, storage solutions, contemporary lighting, bathroom accessories, barware and much more.
For more information, visit http://www.contemporaryheaven.co.uk.
Contact Details:
Roco Verre Ltd
Contemporary Heaven Division
68 Wilbury Way
Hitchin
Herts
Ph.: 44 (0)1462 451199