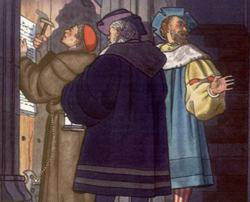 The 95 LDS theses address issues such as Joseph Smith illegally marrying at least 33 women, some of whom were as young as 14 years old, and 11 of whom were already married to other men.
American Fork, UT (PRWEB) February 12, 2013
A group of over 260 active and disaffected Mormons will be posting a copy of 95 LDS Theses onto the doors of their local churches around the world between the hours of 9:00 p.m. Saturday, February 16th, and 9:00 a.m. Sunday, February 17, 2013.
The project is organized by Mormon Reformation, a protest movement which aims to follow protestant reformer Martin Luther, who in 1517 posted a list of grievances on the door of the Castle Church of Wittenberg. Within two weeks, it was distributed by the press throughout Germany, exposed the corruption of the Catholic Church, and started what came to be known as the Protestant Reformation. Now, protesters claim, it is time for a Mormon Reformation.
Why Do Concerned Mormons Feel a Protest Is Necessary?
The protest is intended to be a peaceful, non-confrontational, and anonymous way to achieve the following two objectives:
1) Educating the membership of the church on controversial, revised, and hidden aspects of church doctrine, history, and fundamental claims, and
2) Influencing church leaders to officially address topics that they have dodged, dismissed, and covered up for too long.
The 95 LDS theses include grievances concerning the church's whitewashing & suppressing of documented history, such as:

Joseph Smith illegally marrying at least 33 women, some of whom were as young as 14 years old. Some of Joseph's marriages were secured by promising salvation or threatening damnation.
Joseph Smith married at least 11 women who were already married to other men. In some cases, Joseph married the wives of men whom he had sent away on missions. Brigham Young also married other men's wives.
Boyd K. Packer and other church leaders have openly advocated obscuring and editing history by teaching us that "some things that are true are not very useful."
The LDS Church stifles honest scholarship of Mormonism, going as far as excommunicating people who find and publish history that contradicts the Church's narrative.
The LDS Church's refusal to disclose its finances, even to its tithe-paying members, despite former President Hinckley stating to Larry King that financial "information belongs to those who made the contribution."
"To make this event successful, I am enlisting the help of a wide variety of people," says the protest's organizer, Luther-day Saint." The group of protesters consists mainly of progressive, temple recommend-carrying members of the Church of Jesus Christ of Latter-day Saints, as well as less active members and some members who have recently left the church.
There are now over 1,000 discussion forums, podcasts, and blogs in what is called the Exmormon community, which vary in focus and style from gently discussing pertinent issues to openly satirizing covered-up Mormon beliefs as well as the church's inauthenticity and institutionalized behavioral and information control.
In January, 2012, a Reuters article announced a statement by church historian & recorder Marlin K. Jensen's that the church has never experienced such a profound loss of its membership since the Kirtland, Ohio, banking scandal in 1837.
According to Mormon Luther-day Saint, "Some people wish for nothing short of the complete destruction of the church. For them, my efforts don't go far enough. Others just want to tweak a thing or two about the church. Whatever your personal desires for the church, I hope that I can count on your support to achieve the above two objectives by sharing the 95 theses and our event through social media."
The event and printable copy of the 95 theses can be found on MormonReformation.blogspot.com as well as its Facebook event.
Mormon Reformation is a group of active and disaffected Mormons who seek to create change within the church--not by attacking its beliefs or lay members, but by petitioning LDS leadership to openly address its covered-up history and dishonest claims.