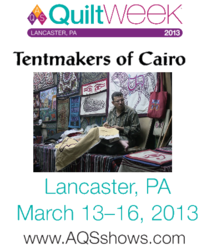 They're the new rock stars of quilting!
Lancaster, PA (PRWEB) February 18, 2013
The American Quilter's Society, headquartered in Paducah, KY, presents an all-new exhibition from the Tentmakers of Cairo at AQS QuiltWeek™ in Lancaster, PA. The 2013 North American tour of Stitch Like an Egyptian debuts in Lancaster from March 13 through 16, with 40 new works of appliqué artistry on display. Each piece is handmade in Cairo specifically for exhibition in the United States.
These stunning handmade pieces of textile art showcase the breadth of design and composition that typify this uniquely Egyptian art form. Egyptian tentmakers appliqué stunning designs to canvas-backed cotton backgrounds forming multiple layers of design and dimension. Meant to hang upright, these appliqué designs make bold statements in home décor. With the help of AQS, westerners are becoming enthralled with the work and artists.
Accompanying the 40 works in the exhibition will be Jenny Bowker and two of the Tentmakers of Cairo. Tarek Abdelhay & Hosam Hanafy will meet and chat with visitors, all while stitching new pieces at lightning speed. Describing their technique, Jennifer Ackerman-Haywood of the Grand Rapids (MI) Press reports, "Watching the men work from the pattern drafting and transfer stage to seeing how amazingly fast they perform their needle-turn appliqué technique was awe-inspiring."
Not to be overshadowed by the exquisite works in the exhibit, Tarek and Hosam radiate warmth and excitement, welcoming visitors to fully immerse themselves in the experience. Thousands come to see the artwork on display, yet most will find themselves at the center watching Tarek and Hosam demonstrate for the crowd.
At home in Egypt, the Tentmakers of Cairo aren't met with the appreciation they find in the United States. Viewed more as craftsmen than artists, they go unnoticed by many in Cairo. Yet American audiences appreciate the skill and artistry of their work, and are absolutely thrilled to learn from them.
At AQS QuiltWeek, the Tentmakers of Cairo will receive the respect, gratitude, and appreciation artists of their caliber deserve. Tim Langlitz, AQS Marketing Director, shares, "They're the new rock stars of quilting – posing for photos, signing autographs, and even stitching blindfolded!"
Admission to the Stitch Like an Egyptian exhibit is free with admission to AQS QuiltWeek. Hours are Wednesday, March 13 through Friday, March 15 from 9 a.m. to 6 p.m., and Saturday, March 16 from 9 a.m. to 5 p.m.
The American Quilter's Society is the largest quilting membership organization in the world. For almost 30 years, AQS has been the leading voice in quilting inspiration and advice, through a broad suite of products—magazines, books, live events, contests, workshops, online networks, patterns, fabric, and catalogs. At AQS, we believe that with inspiration and advice, the creatively minded can take their quilting projects beyond what even they had imagined. That is why inspiration is central to everything we do. The leading authors in quilting choose to publish with AQS; the best in quilt artistry select AQS events to display their work; the newest quilters learn from the knowledge and inspiration of AQS members.