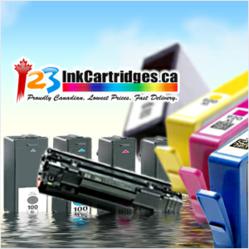 Lachine, QC (PRWEB) February 08, 2013
Online printer ink and toner cartridge supplier 123inkcartridges.ca has just recently announced that they are once again increasing their line of products. Among the recent additions is the Canon 128 New Compatible Black Toner Cartridge. The company, which is based in Canada, has been supplying high quality ink to consumers for many years and continues to add name brand products to their inventory in an attempt to meet customer's printing needs. It is a new compatible toner cartridge for use with Canon printing products.
The ink toner cartridge will print up to about 2500 pages before needing to be replaced. It also has a shelf life of 2 years. It is offered at a reasonable price which is meant to help offset some of the cost of office supplies. This is just one of the latest Canon products that the company is making available to their growing customer base across North America. The online supplier carries many different cannon products for businesses and individuals who use Canon printers.
The company's full inventory of products can be viewed on their official website at http://www.123inkcartridges.ca/printer-ink-cartridge/Canon-128----.html. Consumers will find a wide range of printer accessories to meet their printing needs. Their products come with a one year guarantee and they have customer service available 24/7 to meet consumer's needs and answer their questions. Large warehouses hold the company's 10,650 products so that they can be sent out in a timely manner without customers having to wait an unreasonable amount of time for the products they ordered.
About 123inkcartridges.ca
The Canadian based company began with a simple motto, which stated that they wanted to provide customers with high quality products at reasonable prices. They have continued over the years to do business by this motto. The company began by offering only printer inks and toner cartridges to consumers but soon included computer related accessories in their line of products. More recent, due to consumer's needs, they have also added a wide variety of accessories for tablets, iPads and Smartphones. Their complete inventory of products can be seen on their site at http://www.123inkcartridges.ca They continue to add new products to the inventory to meet the needs of their consumers.