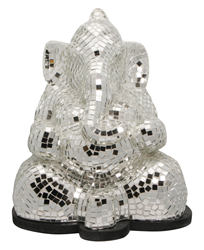 Ganesh, the elephant-headed deity popular worldwide for his perceived graciousness, benevolence, and ability to remove obstacles
New York, NY (PRWEB) February 10, 2013
Ganesh Mall, the online store known for its off-the-beaten-path selection of artwork, statues and gifts inspired by Ganesh, has launched a new line of handmade jewelry influenced by Vedic traditions and art forms. The new line of Ganesh-inspired jewelry will include expanded varieties of gemstones, metals and abstract, artistic designs, and will prominently feature items handmade by artisans working in India and Nepal.
Much of Ganesh Mall's expanded lineup centers on Ganesh himself, the elephant-headed deity popular worldwide for his perceived graciousness, benevolence, and ability to remove obstacles. Although Ganesh originates from South Asia, the deity has enjoyed recent popularity in the US, as American interest in eastern practices such as yoga and meditation continues to grow.
Ganesh Mall launched its updated Ganesh Jewelry line recently with an initial offering of more than 85 items ranging from bracelets to earrings to pendant necklaces, with a wide range of wood, bone, gemstone and sterling silver items available for selection.
Some of the most fascinating pieces are the various handmade Ganesh pendants, which depict Ganesh in an abstract, artistic light. The team at Ganesh Mall explains that Ganesh's universally recognized features (the large ears, serpentine trunk and vast belly) lend themselves to experimental, artistic interpretations. In general, Ganesh's wide features are meant to represent an openness of spirit, a willingness to listen and the capacity to help others, attributes which Ganesh Mall hopes will appeal to veteran customers and newcomers alike.
Ganesh Mall also unveiled several rare designs inspired by the Om symbol used in meditation exercises across several cultures. "Because the Om symbol is the sacred sound of life in the universe," explains Ganesh Mall, "receiving or giving an Om-inspired gift can be considered a very personal and meaningful exchange between two people."
Ganesh Mall's expansion accompanies a redesign of their website to accommodate the increased jewelry selection. You can visit them online at http://www.GaneshMall.com or by visiting their facebook and blog pages.
About Ganesh Mall
Ganesh Mall is a New York based online store specializing in artwork, home décor, jewelry and personal gifts inspired by Vedic traditions and Ganesh legends. Ganesh Mall's goal is to bring positive energy to all people, regardless of spiritual background.