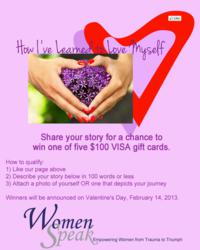 Women can enter their stories before midnight February 13.
Springfield, MO (PRWEB) February 12, 2013
Four judges have been named to select the five winning entries in the WomenSpeak "How I Learned to Love Myself" contest. Amy Michael, owner and publisher of SpringfieldCares Magazine; Jacqueline Warren, Associate Professor of Art at Drury University; Raylene Appleby, President, PJC Insurance; and Krystal McCullough, Ph.D., Vice President and Special Assistant to the President, Drury University; all from Springfield, MO.
Each of the judges has shared her own heartfelt story describing how she learned to love herself.
The winning entries will be selected February 14 based on these criteria:
1. Provides information that could help and inspire other women.
3. Five winning stories together represent a variety of women's experiences.
Women can enter their stories on WomenSpeak's facebook page before midnight February 13. Five winners will receive $100 VISA gift cards.
"I learned to love myself by giving others a reason to love me," says Amy Michael. "People love you when you are kind and good. When you are slow to anger and compassionate. I have friends that I love dearly. They embody those traits. I've never been an unkind person but I have been self centered and temperamental. I had to train myself to remember to ask how someone was and then listen. I found it made me feel good to be a part of a solution. It made me feel happy to be a good friend. I started to really love myself when I realized that I am truly loved by others. It creates a cycle of love and giving that only grows over time and I feel truly blessed to love and be loved by my friends."
"Learning to love yourself is a journey that grows and evolves," says Raylene Appleby. "I have learned that each of us has been given different challenges on our journey. Overcoming these obstacles (whether a family crisis, a job challenge or medical issues) will always make us stronger. There's no substitute for those life lessons that give us a strong sense of pride and strength.
"When I receive loving smiles and hugs from my husband, children, grandchildren, and friends, I feel truly blessed. My love for them knows no boundaries and I am thankful for these relationships, my life and my place in this world. I keep my heart and mind open to all things ahead of me, and hope this ever-evolving love will continue to grow for myself and those I meet on my journey."
"From my earliest memory, I have been curious about everything," says Jacqueline Warren. "I have always felt different from anyone else in my family. Lacking role models, I became an artist at a very young age, and from there I felt special.
"There are cultures where it is assumed that everyone is an artist. I have always been an expressionist, meaning I used color and drawing to create images. This activity of being an artist gave me courage and confidence. Nothing makes me feel sad for long. I do the same thing everyday: look at the world with excitement and wonder. I also have learned to have small out-of-body viewpoints of life, doing a fly-over to look at life from a distance, as if I have been there before, and to have a sense of history about everyday decisions. I like to wake up to a new experience every day, making every minute count."
WomenSpeak offers online resources, encouragement and support to Empower Women From Trauma to Triumph at WomenSpeak. Dr. O'Reilly is available for telephone interviews about the importance of learning to love oneself.