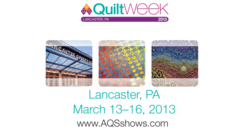 Lancaster, PA (PRWEB) February 25, 2013
The American Quilter's Society, headquartered in Paducah, KY, showcases Pennsylvania's quiltmakers at its inaugural AQS QuiltWeek™ in Lancaster, PA, March 13 – 16, 2013. More than 15,000 participants will converge upon Lancaster to enjoy four days surrounded by the best in international quilt and textile artistry.
A major celebration and centerpiece of the event recognizes the artistry of today's quiltmakers in the AQS Quilt Contest. This year more than 200 quilters will compete for more than $44,000 in cash prizes. With entries from 43 states and 7 other countries, the contest is one of the most celebrated and prestigious in quilting.
In the heart of Amish country, Lancaster County is well-respected as a hotbed of quilting innovation. The active interest from highly talented quilters is a key reason for the American Quilter's Society to bring its famed AQS QuiltWeek events back year after year. This year, Pennsylvania is represented by 15 contestants in the contest. Only neighboring New York brings more with 17 entrants this year.
For the past three years, the AQS Quilt Contest has included at least one Pennsylvanian winner. Past Pennsylvania winners include: Donna Gilbert, from Fayetteville, PA with TROPICAL BEAUTY; Wyoming, PA's Cheryl Kerestes's, ZIPPER HOUSE; ORIENTAL EXPRESSIONS by Karen Kay Buckley of Carlisle, PA.
Winners won't be selected or announced until the opening of AQS QuiltWeek on March 13, 2013. Each AQS Quilt Contest includes only juried entries, with final judging by professional quilt judges.
Admission to the exhibit is free with admission to AQS QuiltWeek. Hours are Wednesday, March 13 through Friday, March 15 from 9 a.m. to 6 p.m., and Saturday, March 16 from 9 a.m. to 5 p.m.
----------
The American Quilter's Society is the largest quilting membership organization in the world. For almost 30 years, AQS has been the leading voice in quilting inspiration and advice, through a broad suite of products—magazines, books, live events, contests, workshops, online networks, patterns, fabric, and catalogs. At AQS, we believe that with inspiration and advice, the creatively minded can take their quilting projects beyond what even they had imagined. That is why inspiration is central to everything we do. The leading authors in quilting choose to publish with AQS; the best in quilt artistry select AQS events to display their work; the newest quilters learn from the knowledge and inspiration of AQS members.