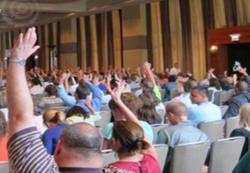 If we view the standards as just a new checklist of things to teach, we will fail.
Oakbrook Terrace, IL (PRWEB) February 11, 2013
School Software Group (SSG), the premier provider of curriculum and assessment management software for K-12 school districts, has announced its partnership with the Common Core Institute, a leading provider of ongoing professional staff development and job training for education professionals, to allow school districts to use, in their curriculum, unpacked and pre-defined deconstructed common core standards based off of the Common Core standards.
The Common Core standards have been adopted across the United States and promise increased rigor in the classroom. By having pre-defined rigorous learning progressions to use in a district's curriculum management system, educators have measurable and clear targets to more clearly assess the level in which their students are learning.
Chris Trina, founder of School Software Group, believes the partnership with the Common Core Institute will provide district leaders with an edge in providing high quality curriculum in their classrooms.
"We are really excited to offer districts the unique combination of the power and flexibility of our award winning curriculum management tool, BuildYourOwnCurriculum, with the high quality of professionally developed deconstructed common core standards based on the Common Core," said Trina. "We had several of our clients review the work of the Common Core Institute prior to creating this relationship and we are confident that we can offer districts an extremely high quality solution that can jump start their Common Core implementation efforts!"
According to Kevin E. Baird, Chairman at the Institute, the critical issue is how schools approach the standards. States Baird, "If we view the standards as just a new checklist of things to teach, we will fail. To meet College & Career Readiness requirements, we need to get fifth graders reading at today's eighth grade level. The NAEP results indicate more writing is critical. The new assessments require thinking – not just 'knowing'. Accelerating two to three grade levels is more than a challenge – but it is possible."
The Common Core Institute has broken down the Standards into easy to understand components to help teachers understand what students need to know to be able to do. These components are organized by deconstructed common core standards categories to help partners, administrators, and teachers identify assessments that accurately measure student understanding and learning outcomes.
About School Software Group
School Software Group works in partnership with regional school districts to answer the need for hard-working solutions and rapid service response. Through its dealer network, School Software Group has expanded its efforts nationwide with software at work in over 350 districts throughout the U.S. Every solution is based on close, onsite collaboration with educators. For more information, contact School Software Group, 61 N. Meadow Row Ct., Appleton, WI 54913 or visit http://www.schoolsoftwaregroup.com.
About The Common Core Institute
The Common Core Institute partners with publishers, non-profit organizations, departments of education, and school organizations to provide a practical, pragmatic approach to College & Career Readiness initiatives. An authorized Common Core Black Belt provider, the Institute currently provides graduate-level programs to more than 10,000 educators annually across the United States. Visit us at http://www.CommonCoreInstitute.org.