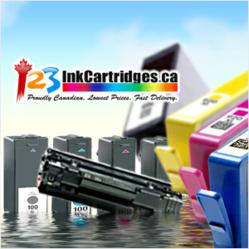 Lachine,QC (PRWEB) February 11, 2013
The number one online printer store 123inkcartridges.ca continues to add high quality products to their growing inventory. The most recent announcement informed consumers that the HP 564XL Remanufactured Ink Cartridge New Version Combo Set 1 was the latest addition to this rapidly expanding line of printer products. The company offers reasonably priced items that are only the highest quality available. The remanufactured ink cartridge also comes with free shipping. They contain at least as much ink as the original products that came from the initial manufacturer. Many models have as much as 3 times the ink that is found in original cartridges. Purchasing the HP remanufactured ink cartridge can save a business lots of money.
The remanufactured ink cartridge combo set contains 5 ink cartridges, one black and one photo black. The other three cartridges are of the standard colors: cyan, magenta, and yellow. It has a shelf life of 2 years as well. 123inkcartridges.ca is making this type of high quality ink cartridges available to consumers who use HP products. This is the newest item on the growing inventory list of more than 10,000 products.
The online ink and toner cartridge supplier continues to add products to their inventory. Consumers may view their entire line of products by visiting their site at: http://www.123inkcartridges.ca/hp-ink-cartridge/564XL-New-Version-Combo-1.html. Inventory includes a wide variety of ink and toner cartridges as well as many other computer, printer, and Smartphone accessories. They can be assured that they will receive only the highest quality products priced in a reasonable range. The company hopes to meet the growing needs of consumers by expanding the products they offer through their online store, as well as saving them business expenses.
About 123inkcartridges.ca
The company is based in Canada and offers a wide variety of products to their clientele. They began offering printer ink and toner cartridges to consumers and experienced rapid growth. They soon began to expand their line of products to include a wide variety of computer related products. More recent additions include accessories for tablets and Smartphones. Their store http://www.123inkcartridges.ca offers many different high quality products at reasonable and affordable prices.