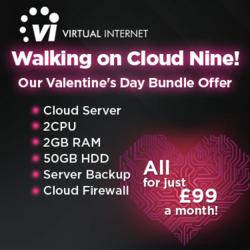 Clearly no one would buy this as a Valentine's Day present for their loved one.
London (PRWEB UK) 11 February 2013
The Walking on Cloud Nine Bundle Offer consists of a Cloud Server, 2CPU, 2GB RAM, 50GB HDD, Server Backup and a Cloud Firewall all for just £99 a month.
Virtual Internet invites customers to fall in love with their 24/7 VI-tal support, 100% uptime guarantee and superior high-speed network – however they warn: Buying a server for your loved one this Valentine's Day could be hazardous to your health. But is highly recommended for your business and customers.
Managing Director at Virtual Internet, Patrick McCarthy, stated: "Our tongue in cheek message for Valentine's Day is a bit of fun, clearly no one would buy this as a Valentine's Day present for their loved one, however our Cloud Server Bundle is an excellent starting package for SMEs looking to move into the Cloud."
He adds, "This specially designed Cloud Server Bundle is built on easy to use, market-leader technology VMware, plus it's scalable so you can increase the resources as and when you need them as your business grows."
Virtual Internet have been providing high availability managed web infrastructure services for businesses since 1996.
For more information, or to request a quote regarding one of Virtual Internet's products, please do not hesitate to visit their website. Find out more about the deal on Virtual Internet's offers page of their site.