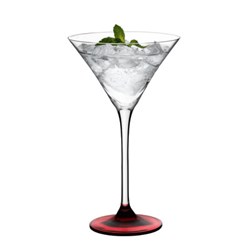 The Coro range from LSA International is a very modern collection of drinking glasses
(PRWEB) February 15, 2013
For more than 40 years LSA International has been creating designer glassware, including vases, candle holders and speciality champagne flutes. Now the company has broadened its product catalogue with the Coro range of drinking glasses, which is now available at Contemporary Heaven. Having stocked LSA products for many years, Contemporary Heaven holds stock on handmade vases like the colourful Odette vase or the liquid illusion that is the Orieta vase. In addition to LSA vases, Contemporary Heaven also stocks candle holders, giant champagne flutes and cocktail glasses, platters, serving dishes, decorative bowls and clear champagne flutes.
The Coro range from LSA International is a very modern collection of drinking glasses that features mostly clear glass construction with a section of berry coloured glass adding character. Coro glasses come packaged in an LSA gift boxed set of four, with one glass in each of the four berry-toned colours. The rich colours create a simple contrast against the clear glass, creating a very minimalist contemporary look that is enhanced by the elegant shapes.
The Coro Wine Glass is tall and simple, yet curves gracefully to form a very classic wine glass shape. Each glass holds 400ml of liquid and features a different berry colour on the base of the glass. The Coro Cocktail Glass is 19cm high and holds 210ml of liquid, with a similarity to the wine glass in that the colour feature is also on the base. The same is true of the Coro Highball Glass, yet since this version is without a stem it brings a completely new angle to the coloured bottom, with any liquid affected in appearance by this colour. The highball version is 14.5cm high and can hold 425ml of liquid while retaining a delicate appearance with a slightly tapered shape.
Over the past few months, new additions to the LSA range have also included vivid colours of glass and simplistic outlines. Some of these new items include the Tondo tealight holder, which is available in red, lime green and purple, the matching LSA Tondo Vase which is available in a subtle pastel sapphire blue and the LSA Flower Vase which is completely clear. Because LSA glassware is handmade, it has better clarity than most glass products, which adds to the charm of the items.
About the Company
Contemporary Heaven is a Hertfordshire based retailer and manufacturer with online outlets in the UK, Holland, France, Germany, Poland and the US. They are a subsidiary of Roco Verre LTD which has been in existence for more than 15 years, supplying a range of home accessories to retailers, businesses and individuals. Their range of home accessories includes modern clocks, custom time zone clocks, personalised school clocks, coasters and placemats, unusual wall mirrors, storage solutions, contemporary lighting, bathroom accessories, barware and much more.
For more information, visit http://www.contemporaryheaven.com
Contact Details:
Roco Verre Ltd
Contemporary Heaven Division
68 Wilbury Way
Hitchin
Herts
Ph.: 44 (0)1462 451199