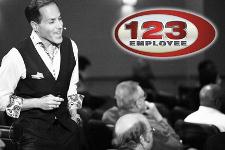 (PRWEB) February 12, 2013
When award winning record producer, author, entrepreneur, Daven Michaels agreed to shoot a Gangnam style video with his employees in the Philippines, he had no idea what he was getting into. Daven, admits he was bad at disco, really bad at rap... admits that he was out of his dancing league when he agreed to shoot a video with hundreds of his employees in the Philippines.
The project was the brainchild of Daven's partner, Beejal Parmar, VP of 123Employee. During a regular virtual meeting, Beejal suggested that Daven shoot a Gangnam Style video with their employees during his next visit. It was late at night and Daven who was in a glazed and dazed state said "sure, whatever", and then forgot all about it!
Beejal then informed the management of their Philippines center who immediately started making plans for the team building exercise and video shoot. A few days later Daven landed in the Philippines, jet lagged and ready for work. He arrived at the 123Employee Campus 2 in the Philippines to find everyone dressed in red. Beejal had conspired with Daven's girlfriend Liz to have his signature white jacket and hat shipped to the 123Employee office.
Before Daven could settle down, he received a call from Beejal who told him, "Hey, bud, it's all set. The entire staff's onboard and we shoot the video in 5 hours!" Daven explained that he was drinking Mountain Dew at the time and it shot out of his nose.
The camera crews were ready, the employees were ready, the management were ready, the only person not ready was Daven Michaels and the person who set him up was thousands of miles away, laughing his head off.
Several hours later the video was shot, and was just put up on YouTube. Daven explains that while he was unprepared, the entire process turned out to be a wonderful team building experience. "People in the Philippines love to sing and dance, and while I sucked at the dance, it was 100% worth the effort to see the joy it brought to our employees at 123Employee."
"We take business very seriously, but sometimes you have to laugh at yourself, and more importantly allow others to laugh at you as well. I know my friends and fellow speakers will poke fun at me, but that's OK, I know secretly they wish it was them!", says Daven.
Watch the video now at http://outsourcingstyle.com.
About Daven Michaels
An entrepreneur, award winning record producer, internet marketer, affiliate network owner, investor, author and outsourcing specialist, Daven Michaels started early in his entrepreneurial life at the age of 15 years. He currently heads 123Employee, a pioneering outsourcing center that provides BPO, customer support, internet marketing and telemarketing services.
Check out 'Outsourcing Style' now at:
http://outsourcingstyle.com
Contact:
To schedule an interview with Daven Michaels, please call 866.549.1296 x 456 or e-mail CEO @ 123Employee.com.