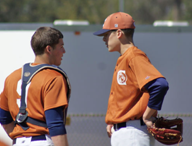 Tucson, Arizona (PRWEB) February 11, 2013
Ideal Physical Therapy proudly presents the 4th Annual Cowboy Up Baseball Tournament at the Kino Sports Complex in Tucson February 20th through the 23rd.
Mark Chandler, Baseball Coach at Sahuaro High School, and Tony Gabusi, Head Baseball Coach at Cienega High School founded the Cowboy Up Baseball Tournament in 2009. The proud sponsoring school teams for this year's tournament are Sahuaro High School and Cienega High School.
The Cowboy Up tournament began three years ago with eleven teams and has now reached seventeen teams for the February 2012 tournament. Due to the timing of the tournament being during the Rodeo break, the tournament name comes from the theme of Rodeo.
The tournament this year will be hosted at the Kino Sports complex, one of the finest baseball facilities in the southwest and formerly the spring training facility of the Arizona Diamondbacks.
Tournament teams this year include Cienega, Sahuaro, Catalina Foothills, Cholla, Desert View, Mountain View (Marana), Pueblo, Sabino, Flagstaff, Yuma, Rio Rico, Salpointe, Vista Grande, Rincon, Empire, Flowing Wells and new this year, Ironwood Ridge.
The tournament runs from Wednesday Feb. 20-23, with the championship game held on Saturday afternoon. The tournament will be open to local community members to come out, enjoy the games and support their favorite high school teams.
For additional information on purchasing tickets, the schedule, and to stay updated on the scores, visit http://www.sahuarobaseball.com.
Ideal Physical Therapy has five locations in the Tucson, Oro Valley, Harrison and Grant areas.
"We are proud to be the local choice for physical therapy in Tucson, and are honored to be a part of the Cowboy Up Tournament, a long-time tradition and tribute to Tucson's heritage," states Alex Matuszeski, Partner Physical Therapist at the East Grant Location.
For additional information on Ideal Physical Therapy, or to schedule a complimentary injury/pain screening, visit http://www.idealphysicaltherapy.com.
###